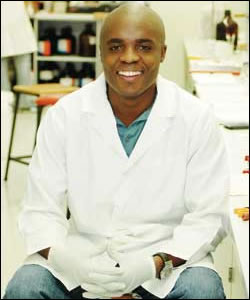 Opening new doors: Soon after he graduates, Chitalu Musonda Jr will make for Pfizer in the UK to work on anti-parasitic compounds identified by the WHO.
Chitalu Musonda Jr has landed the dream first job. Come August, the PhD graduate - he's capped this week - will head for the UK where he will join the labs of Pfizer Inc, the world's largest research-based pharmaceutical company. That's thanks to his newly won Career Development Fellowship in Synthetic/Medicinal Chemistry, offered under the Special Programme for Research and Training in Tropical Diseases (TDR) of UNICEF, the United Nations Development Programme (UNDP), the World Bank and the World Health Organisation (WHO). Musonda is one of just six young researchers from around the globe to have won the newly introduced fellowship, and one of just two to join Pfizer for a year, possibly two. (The partnership between the WHO and Pfizer is also a first, one likely to raise a few eyebrows.) Going by his work at UCT, Musonda should be well set for Pfizer. Working in the synthetic/medicinal chemistry lab under the supervision of Professor Kelly Chibale, he has been cobbling together a number of possible anti-malarial compounds - mostly based on substructures derived from chloroquine, the first line of prevention against and treatment of malaria - to boost the parasite-killing potential of the drug. Similarly, the WHO has identified a host of compounds thought to have anti-parasitic qualities, as against the protozoan parasites that cause various diseases. It will be Musonda's job - and that of the other Fellow - to play around with the compounds to see if they can be included in a new arsenal of drugs. Chibale is understandably pleased that one of his students has been selected for the honour. Not only does it show that UCT produces some pretty good graduates, he says, but the country and the continent will benefit hugely once the researchers return to their home shores (the fellowship demands that they must) with new sets of skills and expertise. For Musonda it's his first time out of a university lab. And including the name of one of the world's leading drug companies in his CV may well open many new doors. "It's the first step towards my big break," he says. Opportunity beckons.
---
This work is licensed under a Creative Commons Attribution-NoDerivatives 4.0 International License.
Please view the republishing articles page for more information.
---