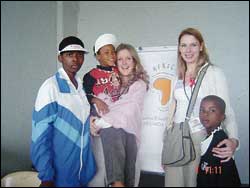 Fun message: The African Pulse project co-ordinator Jo Ward (left) and project leader Katherine Lee, and school pupils.
Taking young children over the rough ground leading to an understanding of HIV/AIDS daunts most parents. For primary school teachers, the task is even more fraught, compelled as they are to include sensitive topics like HIV/AIDS to deliver the life orientation curriculum.
Many pupils are also reaching saturation point with disparate HIV/AIDS messages that do little to address these issues at their level of understanding - or encourage them to adopt key life skills that promote healthy behaviour.
The humanities faculty's Schools Development Unit (SDU) has been working with The African Pulse, a UK charity teaming up with partners in South Africa to develop relevant and entertaining resources for HIV/AIDS education in schools. These are life skills resources that can be integrated into other subject areas like mathematics and geography.
If this sounds improbable, consider that a map of the world showing HIV prevalence across the globe can fuel a discussion about, say, developing versus developed nations, or perhaps create an opportunity for learners to practice converting numbers into percentages. Life expectancy rates in various parts of the world can be depicted graphically, and so on.
Together with the SDU, The African Pulse has piloted Feroza's Story in 10 schools around the peninsula, from Camps Bay to Langa. This pilot has since informed the redevelopment of the resources in partnership with the Western Cape Department of Education.
The HIV/AIDS message piggy-backs on the story of a young girl, Feroza, who lives in a typical Cape community. The package adopts an edutainment approach: with games, activities and interactive classroom work, framed within an animated story.
With HIV/AIDS messages bombarding youth, the organisation has worked hard to develop educational tools that pupils relate to; there's a CD-Rom, a comic book, and an activity book and a series of animated stories and games. And even in schools without electricity, the comic book can be used.
Importantly, the atmosphere created through these tools encourages children to share their experiences, values and opinions.
"Educators need new and innovative resources," project co-ordinator Jo Ward said. "Only once the learners are are engaged with the resources can they start to internalise the important information that the resources deliver."
Ward said that a recent pilot project had showed pupils learnt about sex through the media and at school. She believes these platforms haven't been fully harnessed.
Most of all, Ward says the programme supports the sustainability of life skills and HIV/AIDS education in schools.
South Africa has a bleak record: 10% of all new HIV infections occur here, where prevalence is estimated at 5.3 million (UNAIDS). Medical Research Council statistics indicate that 24% of grades 6 and 7 pupils are sexually active and 40% believe AIDS can't be contracted at this stage of their lives.
"It's our dream to take this concept of education to other provinces with other stories: relationships, boundaries, roles and responsibilities, citizenship," Ward said.
---
This work is licensed under a Creative Commons Attribution-NoDerivatives 4.0 International License.
Please view the republishing articles page for more information.
---