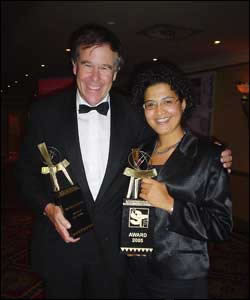 Award-winning smiles: Prof Tim Noakes and Dr Tania Douglas show off their pickings. (Absent: Assoc Prof Candy Lang.)
UCT was done proud at this year's National Science and Technology Foundations Awards, which yielded three winners among the 12 categories. Professor Tim Noakes (sports science) took the Over a Lifetime Award, Associate Professor Candy Lang (mechanical engineering) the Research Capacity Development (over the past five to 10 years, female winner) award, and Dr Tania Douglas (human biology) the Distinguished Young Black Researcher (over the past two to five years) award.
"I am delighted with UCT's overall performance at this year's NSTF awards," Deputy Vice-Chancellor, Professor Cheryl de la Rey, said. "What is especially pleasing is that our researchers have won awards across a range of categories, from the individual over a lifetime category to the category for distinguished young researcher as well as for a researcher who has made an outstanding contribution to research capacity development.
"My congratulations to each of our finalists and our winners. Each of them is a role model. The fact that we had more than one finalist in several categories demonstrates that there is depth to our research endeavours."
Noakes was honoured for his contribution to exercise science and sports medicine, one that has revolutionised the scientific approach in this area. The motivation reads: "He has contested, sometimes alone, erroneously held practices such as that athletes should drink 'as much as tolerable' during exercise. In 1985 he described the world's first case of exercise-associated hyponatraemia and concluded that the potentially fatal condition was due to voluntary over-drinking during exercise. His views were vindicated in 2005 by studies in New England and the guidelines revised. He has also driven the development of a novel model known as the Central Governor Model of Exercise for the regulation of bodily function during exercise."
As Noakes said: "It is very rewarding when someone else decides that by doing that for more than 35 years you did actually also make a contribution that has been recognised internationally.
"I am especially proud that the award was made in a field that, together with many others, I helped to develop in South Africa. I hope that all those who worked with me in this endeavour will draw satisfaction from this award, knowing that I did not achieve this alone and that the award, perhaps even more importantly, recognises the crucial contributions of a fantastic team of young South Africans.
"The danger of any award is that it draws attention to an individual whereas every successful person knows that only teams can produce long-term success of an international standard. I think all those who made this award possible and trust they will also take pride in their work and their crucial contributions."
Speaking from the mechanical engineering department, Lang paid tribute to her team. "For several years now I've been lucky enough to work with a group of extraordinary people - my postgrad students. We have the time of our lives working at our research and we are all passionate about what we are doing. The NSTF award for capacity development really belongs to all of the students, not just to me."
There are very few graduate programmes worldwide where more than 50% of the graduates are black females. The motivation for Lang's award reads: "Candy Lang has achieved this consistently for several years, and with the introduction of the BSc (Hons) Materials Science Programme in 2004, continues to increase her output. The numbers indicate the significance of this contribution to research capacity development in the department."
Douglas said she was gratified to have her work regarded as a useful contribution to science, engineering and technology in South Africa. "Attending the award ceremony and being in the company of senior researchers who have made their mark in the scientific world was humbling and inspiring."
Her research addresses major South African public health problems by developing innovative instruments and techniques for the diagnosis of pathologies such as foetal alcohol syndrome (FAS), spinal injuries, adolescent scoliosis, tuberculosis and meningitis. Children have been the main beneficiaries of her work. Commercialisation of her contributions is making these benefits accessible to more people.
"This work is interdisciplinary and I'd like to acknowledge the support of various collaborators and particularly of colleagues and students from the MRC/UCT Medical Imaging Research Unit."
---
This work is licensed under a Creative Commons Attribution-NoDerivatives 4.0 International License.
Please view the republishing articles page for more information.
---