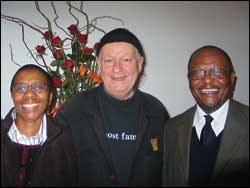 Smiles all around: Vice-chancellor and principal, Prof Njabulo S Ndebele and his wife, Mpho, share a laugh with Pieter Dirk-Uys.
"In the limelight tonight is a very special septuagenarian, a spruce 75-year old, a grande dame among theatres."
Thus the Vice-Chancellor and Principal, Professor Njabulo S Ndebele, announced the occasion for which guests had gathered to celebrate on May 22 in Hiddingh Hall.
Founded in 1931 by Professor William Bell, UCT's first professor of music, the Little Theatre opened its doors with Anton Chekov's The Seagull.
Since then, many of the country's most talented actors have perfected their art and emerged from behind her velvet curtains to become South Africa's best loved performers.
The list of household names includes Percy Sieff, Keith Anderson, Roy Sergeant, Anna-Mart van der Merwe, Richard E Grant, Sean Taylor, Akin Omotoso, Janice Honeyman, David Isaacs, and Oscar Peterson of Joe Barber fame.
There was Pieter-Dirk Uys who has given us the evergreen Evita Bezuidenhout; Alan Committie who gave us the bumbling Johann van der Walt; David Kau, a prolific stand-up comedian; and Basil Appolis.
"I look about tonight and see faces that have become familiar through various stage, TV and film productions, careers forged through the UCT drama department and later honed in the Little Theatre," said Prof Ndebele.
Uys, one of the theatre's most successful progenies, was the special guest speaker, introducing himself as "an unemployed person who is never without work".
"All of us here are paying tribute to someone from this extraordinary place who made our dreams come true," he said. "I am one of the many, many foot soldiers who keep this rampart going. My motto is that if you can do it well at the Little Theatre, you can do well anywhere."
A comprehensive line-up of performances has been running to mark the 75th anniversary, kicking off with a contemporary production of The Seagull, directed by alumnus and senior lecturer, Liz Mills.
Other performances included Die Swerfjare van Poppie Nongena and the Xhosa production Kusalawula Yena.
The department has had many invitations to participate in international events, including the International Theatre Schools Festival, Setkani/Encounter in Brno, Czech Republic, where students of the UCT drama school staged Mrs Kaplan and the Witchdoctor, directed by Associate Professor Christopher Weare.
Dean of Humanities, Prof Paula Ensor, comments: "Chris Weare and his team are to be congratulated on organising a wonderful 75th birthday celebration. A large and diverse crowd of people gathered, including many old friends and supporters of the Little Theatre. Among this group was Sheila Chisholm, who reminisced with me on her early days with the theatre. When Sheila was a dance student at UCT, she performed frequently at the Little, as did her father, Eric, a professor of music. In those days the Little Theatre was the home of opera, ballet, theatrical and musical performances and there was a great deal of collaboration between the different schools of the performing arts in mounting productions.
"The Little Theatre has always been a community theatre, used not only by the department of drama but also by other companies. From its inception it established a reputation as a place for experimentation, where new works could be tried out.
"Perhaps most importantly of all, the Little Theatre should be remembered as a unique space, one of very few where for many years multiracial casts could perform to multiracial audiences."
The Little Theatre has remained an integral part of the university, serving mainly the drama, opera and ballet departments.
In addition, it has claimed its rightful place as an important part of Cape Town's cultural life.
---
This work is licensed under a Creative Commons Attribution-NoDerivatives 4.0 International License.
Please view the republishing articles page for more information.
---