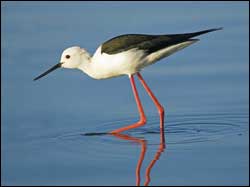 "People say there's nothing out there," joked Northern Cape MEC for tourism, environment and conservation, Pieter Saaiman, in town recently for the launch of a new book, Birds of the Orange River Estuary and Surrounding Area.
But they're underestimating the ecological diversity of the province, which swallows up one third of South Africa's land mass, and particularly the rich diversity of birds that have set up home in the Orange River estuary: the Damara Tern, the Chestnut-banded Plover, the Great White Pelican, the Karoo Eremomela, and others.
Holding his nose in protest against the brown pancake of smog that had settled on the Mother City, Saaiman joked that at least he could breathe freely back in Kimberley.
Mark Anderson, one of Saaiman's colleagues, is the book's author, a man with close links to the Avian Demography Unit, which has published the book (in conjunction with the Saaiman's department) under their Bright Continent Guide Series.
In the restricted diamond-producing region around Oranjemund and Alexander Bay, off limits to most until recently, little is known of the birds of the estuary, situated in the Succulent Karoo biome. But the Northern Cape government is hard at work to change this and conservation plans for the estuary include the establishment of a wetland, a protected area that seems set to straddle the South African and Namibian borders.
The importance of this wetland for birds was recognised in the 1980s and it subsequently became a Ramsar site. It's the only one the province boasts and, interestingly, one of the few in the world that crosses an international boundary.
With almost no estuaries or river mouths for hundreds of kilometres of coastline to the south and north, the shallow waters of the Orange River estuary provide vital feeding, roosting and breeding habits for a variety of waterbirds. And these days the estuary is easily accessible via Alexander Bay.
At times the wetland supports more than 20 000 waterbirds with almost 5 000 terns counted in a 2006 survey.
The guide is more than a comprehensive, annotated list of species. It describes the history of human occupation at the estuary, the area's geography, climate, vegetation and mammals.
As the Minister said: "The book could attract more eco-tourists to the region, with many benefits and spin offs for the province's people, and especially the residents of the Richtersveld and greater Namaqualand area, an important resource for bird-watchers who visit the area."
For all its yawning expanses, the Northern Cape is home to a surprisingly rich biodiversity and once the coastal reserve has been formalised, the region will have all seven biomes represented.
---
This work is licensed under a Creative Commons Attribution-NoDerivatives 4.0 International License.
Please view the republishing articles page for more information.
---