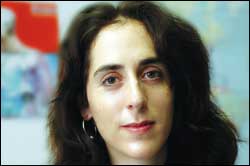 Where to for the Bard? Dr Natasha Distiller delivered her talk, Material Culture: Shakespeare in Post-Apartheid South African Schools, as part of the UCT Fellows' Awards series of lectures last week. She is one of five winners of the 2005 UCT Fellows' Awards, made to up-and-coming young UCT scholars.
His name is William Shakespeare, and he is the Bard. And he is one of the greatest writers - no, the greatest, dammit - England and the world has ever produced.
His track record speaks for itself - in the 400-plus years since he first put quill to scratchy paper, his words have won the hearts of critics and lovers across cultures and languages. There's something in there for everyone. Right? Well, maybe not. For some time now, scholars have suggested that perhaps Shakespeare's standing in the literary world has as much to do with culture and history - it helps if you have an entire empire hard-selling you and, two centuries later, Hollywood crooning your praises - as his way with a soliloquy. And, as Dr Natasha Distiller of the Department of English Literature and Language argues, that makes him a tricky proposition when teaching Macbeth and Romeo and Juliet to South African post-apartheid school learners, language issues aside.
Not too long ago, Shakespeare (not by his own doing, it must be said) did good service in aid of, first, a colonial and then an apartheid education system that wanted to entrench certain values as universal.
But what now for Shakespeare in post-apartheid South Africa?
"If we accept the conclusions of cultural materialist and post-colonial work on the development and institutionalisation of English literature as a discipline, and of the role of Shakespeare within this history, then there is no intrinsic history why Shakespeare's texts should be made to speak to current South African issues outside of the logic of the colonial system which entrenched Shakespeare as the paragon of English literature and thus human expression," says Distiller.
But despite the hardiest efforts of university scholars to point to the historical and cultural roots of Shakespeare's canonisation, schools persist in teaching the Bard's "universality".
Two recent series of texts, one by Macmillan Publishers and another by Maskew Miller Longman, did their level best to draw parallels between Shakespearean staples (think Macbeth and his three witches) and our own issues.
"The fact remains, the more these editions try to make Shakespeare's language and cultural context 'accessible', the more they point to the gap between the texts and the students' lives," says Distiller.
And what to make of the highly-praised set of books in which Walter Saunders modernised Shakespeare's 16th century English?
"If Shakespeare on his own is so abstruse," asks Distiller, "why struggle to come to terms with him at all?" There are many such questions to be asked of the education system, she suggests. "I'm not saying we shouldn't study Shakespeare, but that there is lots to be gained from asking why and how we do it." For now, South African bardolaters should not rest easy. All may not end well.
---
This work is licensed under a Creative Commons Attribution-NoDerivatives 4.0 International License.
Please view the republishing articles page for more information.
---