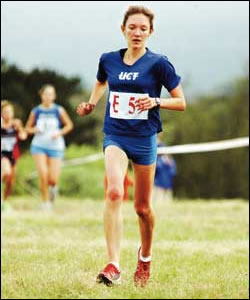 Unice Vorster takes the UCT team home at the Pineland cross country race.
The 2006 seasons are anything between one or four games old for the UCT sports clubs. We catch up on how they've been doing - mostly pretty well - and what their plans are for the year.
Athletics (Cross Country)
Looking back: A very good season for UCT's women's team in the 8km cross country event last year - they finished runners up to the much fancied Adidas squad.
What's happened thus far in 2006: Just one pre-season "friendly", a 5 x 3km relay, where the lead women's team again made a good showing, taking runners-up spot. A second UCT women's side finished fourth, while two men's teams ended sixth and eighth respectively.
Game plan for 2006: The club aims to do well in all events - senior men 12km, senior women 8km, junior men 8km and junior women 6km - says club captain Will Robinson. "It would be great to pick up some wins, and participation is the first step towards winning," he says. Robinson is setting the right example - he's running with two broken arms at the moment.
Who to watch: Sorry guys, but the women get our vote. Make us change our minds.
Next race: The first league race is on Sunday, May 14, at the University of the Western Cape, starting at 12h30.
Hockey (Men)
Looking back: After four consecutive Grand Challenge title wins, the men's first team finally had to cede top honours, to Western Province Cricket Club A, in 2005. And the B side was relegated from the top flight.
What's happened thus far in 2006: A few changes to the squad since 2005 - blame that on the usual post-graduation exodus - including the loss of stalwart Sean Thomson to archrivals WPCC A. But a cohort of young players from the second team is ready and willing to step into the departed players' boots, says coach Pierre le Roux.
Game plan for 2006: Getting that SASSU monkey off their back, says Le Roux. The team has made the final just about every year, but too often has left the field empty-handed. And why not win the WP trophy again?
Who to watch: Keep an eye on 19-year-old Andrew Smith, who stepped straight into the first team after registering for studies at UCT this year.
Next match: Against Maties on Saturday, May 13, in Stellenbosch. The game kicks off at 16h30.
Hockey (Women)
Looking back: As set out in their mission statement in 2005, the women finished in second spot in the Grand Challenge league. Just too many points behind Maties, though. And the B side earned promotion to the Grand Challenge as well.
What's happened thus far in 2006: Not too many players left at the end of 2005, although the side will miss international Liesel Dorothy and Shannon "The General" Turner, two of the few to move on. Good news is that they've picked up some quality replacements in Rowena Wilson (poached from Stellenbosch for a change) and Linda Kota, who's represented Southern Gauteng. The team's played only one game thus far, an easy 8-0 win over Bellville.
Game plan for 2006: Doing well at SASSU again after an impressive performance last year, for one. "And we want to remain the official opposition to Maties," says captain Natalie le Brun. The trick to keeping within earshot of Stellenbosch, though, will be to pick up bonus points whenever possible, just like they did against Bellville.
Who to watch: Wilson and Kota, for sure. But let's not forget the many who've already been named for WP caps this year.
Next match: Against Constantiaberg/Gardens on Saturday, May 13, at home. The game starts at 16h30. The B side plays Somerset West at Hartleyvale at 13h30 on the same day.
Netball
Looking back: Nothing too memorable in an oddly abbreviated A1-league season. The team struggled initially, but regrouped and recorded a decent run of wins towards the end.
What's happened thus far in 2006: The squad has stayed much the same as last year, reports coach Louise Cameron. Very good news is that star performer Palesa Mokomele has returned to the UCT fold after a yearlong break from the team. And UCT won their first game of the season, beating Tygerberg C by 32-19.
Game plan for 2006: The first aim is to send a strong squad to SASSU, says club president Toni Waywell. And Cameron believes her team is good enough to finish second in the WP league this year. "We're very optimistic."
Who to watch: Lanky Mokomele will shore up the UCT defence, and whoever ends up in the goal-shooter bib should be worth keeping an eye on.
Next match: We're waiting to hear, but games are played most Saturday afternoons at the Bellville netball courts.
Rugby
Looking back: A miserable first half of the season was followed by a headline-grabbing second. The Lazarus-like recovery under coaches Alan Solomons and Robbie Kempson has become part of Rugby Club lore.
What's happened thus far in 2006: New coach Dave Mallett got the first team off to a promising start in the pre-season friendlies, and then outgunned Collegians 39-16 in the first game of the Premier League season. (Followed by a draw against Tygerberg.) Not too shabby for a squad without its Vodacom players and fielding a few youngsters, including under-20s Michael Passaportis and Simon Westraadt. And it's nice to see Dave Edgar, Sakekile Gqeba and Vakai "Fish" Hove (back from a long injury-induced rest) in UCT colours again.
Game plan for 2006: Ending third after bringing up the rear early on was a dream end for 2005. "It would be great if we could emulate the performance of the second half of last year's season, or better," says Spencer King, director of rugby. "But it's a tough league."
Who to watch: Blond-locked Craig Kleu has shown he's more than just a pretty face - he's captained the SASSU national side - and the bustling Hove has always been one of Monday Paper's favourite players.
Next match: Ah, the intervarsity against Stellenbosch takes place at the Danie Craven Stadium in Stellenbosch on Friday, May 12, at 20h00.
Squash (Women)
Looking back: Just to show they're no flash in the pan, the side won their second consecutive championship title in 2005.
What's happened thus far in 2006: The team of Siyoli Lusaseni, Gina Robison, Annie Aling and Anndrea Naidoo have started their title defence well, winning all their first five matches. Based on sets won and lost, the side now lies second to Durbanville on the WP log.
Game plan for 2006: Duh. Make it three on the trot, of course. "I think there's a little more pressure on us," says captain Aling, "but I think we can win again." The team would also like to be crowned champions of SASSU when they travel to KwaZulu-Natal in July.
Who to watch: Everyone. After a year paying more attention to her studies, Lusaseni is taking over the lead-player role again. Robinson has shown she's a more than worthy number-one player, though, even overtaking Lusaseni in the provincial and national rankings in 2005. After the departure of Angela Bonora, Aling moves up into the number three spot, and Naidoo, who filled in occasionally last year, now has the opportunity to hone her game.
Next match: On Monday, May 15, at 18h30, the women take on Durbanville in an away clash. mm
---
This work is licensed under a Creative Commons Attribution-NoDerivatives 4.0 International License.
Please view the republishing articles page for more information.
---