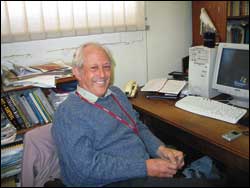 Dist Prof George Ellis has added another prestigious award to his many achievements.
Emeritus Distinguished Professor of Complex Systems, George Ellis (mathematics and applied mathematics), has been honoured with the Order of Mapungubwe for his excellent contribution in the field of science and for putting South Africa on the world stage.
National Orders are the highest awards that a country, through its president, bestows on its citizens. Ellis received his accolade for creative achievement.
Part of the citation reads: "George Ellis could, without undue emphasis, be described as versatile, an acute thinker whose ranges of vision go beyond the mundane. He has inspired many men and women in different fields of human endeavour, as well as using the pedestal of his distinction as an academic to question the pernicious ideology of racial supremacy."
Ellis has reacted to this honour with characteristic humility.
"I think the most important thing is there is a need for some kind of role model for young people who need to see that achievement is possible and that South Africa can achieve at a world level. So it is important to bring the accomplishments of our scientists to the eyes of the youth."
Ellis has written extensively on cosmology and the origins of the universe. In addition, he has gone on to explore how physics underlies complexity and how the human mind functions.
He says that cosmology plays an important role in understanding the creation of the environment in which we live, and that our behaviour depends to an important extent on our understanding of our nature and how we have come into existence.
"There are some deep mysteries which we don't comprehend, and although there is a huge amount of detail of how the brain works, we still don't understand the deep problems of consciousness.
"I think that it's important for us scientists to not only emphasise the wonderful understandings that have been attained by science, but also to stress to the public the limits of what has been accomplished."
Ellis has written various policy documents, including one on science policy in which he suggested looking at the brain as a priority.
He is co-founder of the UCT Brain Behaviour Initiative, an inter-disciplinary research collaboration between academics involved in brain investigations.
Beyond science, Ellis has expanded into social science and politics, and in 1977 he wrote the book Squatters in the Western Cape and also co-authored the book Low-Income Policy in South Africa (1989), both on apartheid relations and suggesting ways to change the dismal housing conditions of black people in the Western Cape.
Vice-Chancellor and Principal, Professor Njabulo S Ndebele says: "Although Professor Ellis has officially retired, he continues to make groundbreaking contributions to South Africa and the world. We are proud to be associated with him and are delighted that he has been honoured in this way."
Other UCT recipients of National Orders include Professor Daya Reddy, Emeritus Professor Peter Beighton and Hamilton Naki.
---
This work is licensed under a Creative Commons Attribution-NoDerivatives 4.0 International License.
Please view the republishing articles page for more information.
---