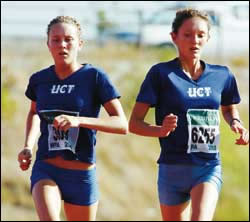 On the March: Lauren Stewart (left) and Unice Vorster have had a memorable racing month, as have a couple of runners donning UCT colours in road, track and field events.
The UCT Athletics Club is just pleased as punch about its string of recent results. And who can blame them? Here's a brief rundown on why they're grinning from ear to ear.
With the Two Oceans half- and full-marathons coming up in April - about 90 club members are already registered for the two races - runners are making use of the events staged in and around Cape Town. At least 30 UCT runners, reported club coach James Evans, took part in the Men's Health 10km in Sea Point on March 8. And some of them did pretty well by themselves, too. Sixty-something Dr Kevin Rochford was second grandmaster in the men's section. Lauren Stewart and Unice Vorster took second and fourth places, respectively, in the senior women's category. Megan Dempster won the junior women's race. And then Dempster, Stewart, Vorster and Nicky Collins won the women's team competition, as UCT did last year.
The club did itself proud at the Constantia Village 15km race on March 11 as well. Stewart finished sixth, becoming the first woman in UCT colours to break the 60-minute barrier over the distance in nearly ten years. Vorster finished back in 13th spot after having to pull over to heed a call of nature. Despite this unscheduled pit stop, which must have cost her around two minutes, Vorster was only a bit off her PB. Dempster was again the first junior woman in. Her time also made her the quickest junior woman in South Africa over 15km so far this year.
On March 20, UCT took top honours at the first Western Cape Inter-students track and field meeting. If only because so few members of the other clubs pitched. At this event - which will hopefully become an annual feature - UCT went up against Cape Peninsula University of Technology (CPUT), Northlink and the universities of Stellenbosch and the Western Cape.
The only real disappointment over the past month was the club's showing at the Top Ten track and field meeting at Bellville on March 18. UCT finished seventh, mostly because the side didn't field a full team at the end. If not for that, UCT could well have trumped at least the Maties B and C sides.
---
This work is licensed under a Creative Commons Attribution-NoDerivatives 4.0 International License.
Please view the republishing articles page for more information.
---