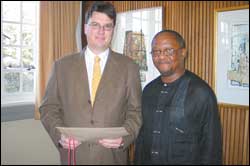 Honoured: Principal and vice-chancellor Prof Njabulo S Ndebele (right) presented the 2005 Alan Pifer Award to Prof Alan Flisher.
Professor Alan Flisher has won the 2005 Alan Pifer Award for his outstanding contribution to the medical and scientific literature in the field of adolescent mental health.
Flisher heads the Division of Child and Adolescent Psychiatry and is director of the Adolescent Health Research Unit. He holds seven degrees from UCT, and is a foremost authority on the epidemiology of risk behaviour of adolescents.
The Pifer Award is made annually to a scholar whose work contributes to the welfare and advancement of disadvantaged South Africans.
Endorsing Flisher's nomination, head of psychiatry and mental health Professor Dan Stein said neuropsychiatric disorders comprised five of the 10 most disabling medical disorders worldwide, but were relatively neglected.
"Globally, mental health services do not have parity with other services. Nationally there continues to be huge stigmatisation and under-treatment, and our universities have rarely developed dedicated chairs in child and adolescent psychiatry, despite the crucial importance of this field."
He said that recent brain imaging research had shown how the brain was "wired differently" in adolescents, perhaps contributing to explanations of why adolescents were particularly vulnerable to demonstrate risky behaviours, including risky sexual behaviour and substance abuse.
"Alan is our foremost researcher in the area of risk in adolescence, and what is wonderful about his work is how it has moved rigorously from epidemiological studies of behaviour to intervention studies in crucial areas such as the prevention of HIV/AIDS in adolescents, as well as to the development of mental health policy," Stein said at the presentation.
In her motivation letter, Dean of Health Sciences, Professor Marian Jacobs, recognised Flisher's contribution to the often-neglected field of adolescent mental health.
"Adolescence is a stage of development that falls between childhood and adulthood and, as such, represents a very marginal area for consideration in health and other social development sectors. Globally, adolescents are given scant attention, and until fairly recently in South Africa any programmes which were in their interest focused largely on family planning in an attempt to address what was perceived to be the biggest problem among adolescents."
Jacobs said that in all his endeavours, Flisher's work had remained focused on poor communities, on promoting equity in access to mental health care and on developing policies to ensure that child and adolescent mental health is mainstreamed in the health sector.
The dean pointed to Flisher's most recent marker of success in this regard; the award last year of R25-million from the British Department for International Development (DfID) for collaborative research in four African countries towards addressing the impact of poverty on child and adolescent mental health and developing policies to address this.
"Professor Flisher is a remarkable researcher who has made a major contribution to child and adolescent mental health in South Africa and across the globe."
Pifer, a philanthropist, past president of the Carnegie Corporation and founder of the UCT Fund, died in October last year.
Accepting the award, Flisher said he had been curious about the man whose name it carries and had undertaken some investigation of his own. He said Pifer had been "imbued by a deep sense of social justice" that infused the organisations he worked for.
---
This work is licensed under a Creative Commons Attribution-NoDerivatives 4.0 International License.
Please view the republishing articles page for more information.
---