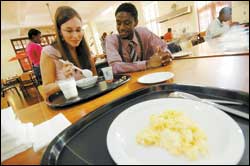 Food for thought: Sarah Terry and head student Tapiwa Tevera share thoughts on residence catering.
Clarinus students chew the fat with caterers
Students taking issue with the food is as much part of student residence life as, say, loud music. But the residents at Clarinus Village, incorporating Clarinus and Clarendon residences tucked behind Groote Schuur Hospital, wanted to do more than just bellyache about their dining experience. So at their first house meeting on March 2 they called in UCT's new catering manager, Mohammed Shaik, for a meeting where everyone could lay their cards on the dining hall table. The students raised, among other things, points on the quality (and quantity) of the food and the problems around lunch-time meals on upper campus. In turn, Shaik reported on upcoming projects like the upgrading of dining halls and an electronic booking system for meals. "Every year, students have only bad things to say about residence catering and feel as though nothing will ever be done about it," says head student Tapiwa Tevera. "They rarely get to hear the story from catering management." Breaking bread together with the catering unit, says Tevera, has at least kick-started the discussion.
RAG Olympics Postponed
A letter from the UCT Rag Committee
UCT's rich tradition of the annual RAG Olympics, which is over 60 years old, did not happen as advertised on RAG poster campaigns and UCT diaries. Unfortunately, due to the intermittent rain for the week February 27 - March 3, the event was postponed to the following week. The event then had to be postponed further into the semester because there were certain permission protocols to follow for using amplified sound in an academic space and the procedure for obtaining this permission is a lengthy one. The RAG Team is currently engaging with UCT management to find the best time in the next term when we can host the games. We are also endeavoring to correct the communication break-downs between RAG and UCT management in preparation of our future events.
We apologise to our fellow students for the disappointment and thank you for your patience and understanding throughout this period. We remain committed to reaching our fundraising targets for SHAWCO and seek your continued support and participation until we should clarify and resolve the pending issues in order to obtain the necessary approvals from UCT.
---
This work is licensed under a Creative Commons Attribution-NoDerivatives 4.0 International License.
Please view the republishing articles page for more information.
---