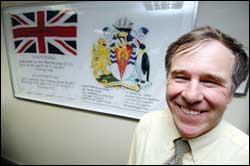 The tartan connection: Prof Tim Noakes is making many new research buddies in the UK.
The shortest distance between two points isn't always a straight line.
That's the approach Timothy Noakes, UCT's Discovery Health professor of exercise and sports science, took when he recently accepted a high-profile appointment as visiting professor in the Division of Neuroscience and Biomedical Systems at the University of Glasgow, Scotland, for the next five years. (So high-profile that no less than the Scottish minister of sport is lined up to attend Noakes' inaugural lecture at Glasgow in September.)
What the posting does is allow Noakes to test his central-governor model - that, in a nutshell, argues that it is the brain and not the muscles that regulate fatigue - on the best possible models, the many Kenyan athletes who have become the final word in long-distance running in the world today.
Noakes has just co-edited a book on the Kenyan phenomenon with a longstanding collaborator at Glasgow, Dr Yannis Pitsiladis. At the same time, Pitsiladis is bringing together a glittering corps of scientists, like Noakes, under the banner of the International Centre for East African Running Science (ICEARS).
For now based in the Institute of Biomedical and Life Science at the University of Glasgow, Pitsiladis hopes to open a cutting-edge ICEARS lab in Kenya from where to study the runners in situ. Within the centre, Noakes can hopefully shape and tap into work done by other scientists, a must-have as he fleshes out his own work.
"We'll be able to set up studies with doctoral students there who can address the central-governor model and other aspects of exercise physiology in ways that we might not be able to study them here," he says.
In return, Glasgow, trying to get its own school of exercise science off to a flying start, gets one of the world's most acclaimed exercise scientists on its books.
---
This work is licensed under a Creative Commons Attribution-NoDerivatives 4.0 International License.
Please view the republishing articles page for more information.
---