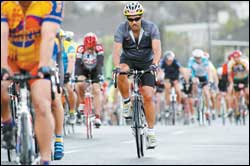 Ever wondered how much energy the 35 000 cyclists participating in the Cape Argus Pick 'n Pay Cycle Tour produced?
A reasonably fit cyclist can continuously generate about 100W of power, enough to light a standard light bulb, says Professor Trevor Gaunt of the Department of Electrical Engineering.
Using an average tour time of four hours (ignoring resting on the downhills!), the average cyclist produced 400Wh of energy. Thus, 35 000 cyclists produced 14MWh of energy.
Maybe this energy can be put to good use to address the current energy crisis in the Western Cape? The City of Cape Town has an electricity demand of 2 000MWh, which means that the energy produced by all the cyclists could power the city for only 25 seconds.
In transport terms, the tour moved 3,8-million passenger-km.
Considering "conventional" transport options, if each of the cyclists decided to drive the same 109km route in 35 000 separate cars, they would have used around 2 660MWh of energy, assuming a fuel consumption of eight litres per 100km and 9.5kWh of energy per litre of petrol. Enough to power Cape Town for one hour and 20 minutes.
Which shows:
bicycles provide remarkably effective transport
cities need huge amounts of energy
cyclists are not a significant source of sustainable energy.
---
This work is licensed under a Creative Commons Attribution-NoDerivatives 4.0 International License.
Please view the republishing articles page for more information.
---