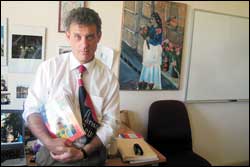 Gold standard: Editor of Psycholegal Assessment in South Africa, Assoc Prof Sean Kaliski with his new handbook, an essential addition to the interface between psychology, psychiatry and the law.
It was an industrial psychologist's deficient evidence in a murder trial in Port Elizabeth in 1995 that spurred Sean Kaliski to compile his ground-breaking text, Psycholegal Assessment in South Africa, a valuable handbook for South African practitioners in the field and the first of its kind in the country.
Trained at UCT and with over 15 years in practice, the associate professor in the Department of Psychiatry and head of the Forensic Psychiatry Unit at Valkenberg Hospital has long been frustrated by the chasm and lack of formal structure.
"Many professionals like psychiatrists, occupational therapists and social workers testify in South African courts daily on a host of issues, from dangerousness to contractual capacity, curatorship, child abuse and insurance claims. They have to make decisions on human behaviour, yet there is no defining work to guide them."
And like the industrial psychologist who gave evidence in a murder trial, Kaliski says many of the psycholegal professionals in our courts do not have the necessary qualifications or expertise to do so.
He describes the close relationship between lawyers and clinicians like "long-married couples that still struggle to understand each other despite their mutual dependence".
"We need to establish a standard to test the quality of psycholegal evidence presented and contribute towards justice in court. The book also provides a credible body of knowledge to ensure psycholegal assessments are conducted in a standardised and informed fashion."
As editor of and contributor to the book, Kaliski has chosen each of the 22 authors for their niche areas of expertise. Many are fellow UCT academics. Together they map sometimes precipitous territory: how to conduct various assessments, interpret clinical findings and communicate these to the courts.
The book is divided into five parts, the first dealing with aspects of law and mental health, followed by the forensic assessment and process, civil litigation, special groups (children, personality disorders, the elderly, etc), and professional skills and issues.
It also incorporates sections on how to write a psycholegal report and how to give evidence, supported by a "big section" on ethics.
Importantly, the book deals with culture, language and ethnicity.
"It is well known that racism, racial stereotyping can be subtle influences that produce biased assessments, such as the prejudice that black psychotic patients are more aggressive and disordered than their non-black counterparts."
It is also telling that although mental health professionals shape the development and interpretation of the law, and its practice, forensic pyscholegal practice hasn't yet been recognised as a specialised, registered profession in South Africa.
"What struck me years ago is that South Africa has huge demands on the courts, yet there is no formal training for forensic experts."
To plug this hole, he has put forward plans for an MPhil in forensic mental health at UCT. Kaliski wants the field recognised as a sub-specialty and sees the book as a paving stone towards that.
(Psycholegal Assessment in South Africa is published by Oxford University Press.)
---
This work is licensed under a Creative Commons Attribution-NoDerivatives 4.0 International License.
Please view the republishing articles page for more information.
---