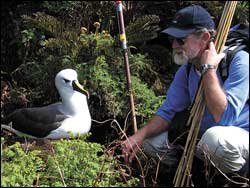 Eye contact: John Cooper introduces himself to an incubating Atlantic Yellow-nosed Albatross on Gough Island. (Photo Ross Wanless)
When John Cooper (Avian Demography Unit, Department of Statistical Sciences) first visited Tristan da Cunha, a remote island in the south Atlantic Ocean, in the early 1980s, he didn't imagine that years later he'd pen a conservation ordinance to protect the island's considerable natural heritage.
The Conservation of Native Organisms and Natural Habitats (Tristan da Cunha) Ordinance 2006, was enacted by Governor Michael Clancey in Jamestown, St Helena, on February 3. (Tristan da Cunha is still a dependency of St Helena, almost 2 000km away.)
The enactment was part of the island's quincentenary celebrations. Five hundred years ago, Portuguese Captain Tristão da Cunha was part of a fleet en route to India when a violent storm dispersed the ships. Da Cunha was driven far south, into the Roaring Forties, where he came across the isolated islands in 1506.
Though he did not land, they still bear his name. The island group (Tristan da Cunha, Nightingale, Inaccessible, Middle, Stoltenhoff and Gough islands) was formally annexed by the British in 1816, and remains a United Kingdom Overseas Territory.
The new ordinance replaces the one drafted by Sir Martin Holdgate and Dr Nigel Wace and enacted in 1976, a little long in the tooth for the islands' growing conservation needs.
"Tristan has since moved to play a role in important international instruments such as the Convention on Biodiversity and the Agreement on the Conservation of Albatrosses and Petrels," Cooper elaborates.
And though it covers a tiny land area, the island group supports a wealth of wildlife, much found nowhere else on earth. This includes 10 endemic bird species (there's not one endemic species in the whole of metropolitan United Kingdom), including the magnificent Tristan Albatross, the critically endangered Spectacled Petrel, and the tiny flightless Inaccessible Rail.
"Tristan Islanders are a conservation-minded band, but much of the biodiversity is threatened by external factors," Cooper notes. Long-line fisheries claim hundreds of albatrosses and petrels, and rats and mice, inadvertently introduced by shipwrecks over the years, are preying on birds.
A passionate advocate of albatross conservation, Cooper has supported the island's conservation efforts for a long time. He was appointed an honorary conservation officer of Tristan in October 1990 (an honour shared by colleague Dr Peter Ryan from the FitzPatrick Institute).
"I have the power to arrest ships and order them to proceed to the nearest port," he jokes.
It's heady stuff for a biologist.
No expert in legal drafting, Cooper studied previous and equivalent documents, borrowed some legalese here and there and leaned heavily on common sense (he's edited a scientific journal for the past 25 years and has written scientific papers for nearly 40).
The first draft was dispatched in November 2004, and the document has been thoroughly checked by conservation and legal experts back in South Africa and in the UK. It also needed comment from the island community and the Island Council.
"It's been hugely satisfying to see it go through," Cooper notes.
The new ordinance takes a substantially new approach to the protection of the islands' flora and fauna. It adopts what is known as "reverse listing", simply stating that all native organisms are fully protected unless listed otherwise.
"This means, for example, that all non-breeding seabirds that visit Tristan and Gough territorial waters are fully protected and may not be killed or disturbed without a permit."
The new ordinance also means that Tristan can now ask to be included within the United Kingdom's ratification of the important Agreement on the Conservation of Albatrosses and Petrels, one that is rallying countries around the world to protect this most threatened group.
Various other initiatives have also been set in motion: All seven Rockhopper Penguin colonies on Tristan now become nature reserves in terms of the new ordinance.
Another conservation initiative Cooper plans is the first biological and geomorphological survey of the Queen Mary's Peak region on the main island. This information will be used to propose a new nature reserve.
Cooper is enthusiastic about the momentum and enhanced tourism opportunities for Tristan.
"The project will produce a management plan to regulate adventure tourism, especially 'peak baggers', those who'd like to climb Queen Mary's Peak (2 010m), the highest in the mid-Atlantic."
---
This work is licensed under a Creative Commons Attribution-NoDerivatives 4.0 International License.
Please view the republishing articles page for more information.
---