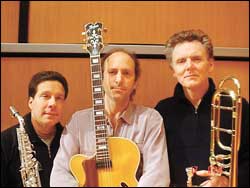 Musical trio: (From left) Assoc Prof Mike Rossi (saxophone), Anthony Weller (guitar) and Phil Swanson (trombone).
Billed as the "largest and most competitive" international jazz conference in the world, the 33rd Annual International Associate for Jazz Education (IAJE) in New York proved peerless as a launch pad for Mike Rossi's new book, Contrast and Continuity in Jazz Improvisation: A diatonic and multi-coloured approach.
An associate professor at the South African College of Music, Rossi also presented a performance and lecture, based on the concept of his book, which was published by Advance Music in November last year. His presentation received an overall rating of "excellent" from IAJE monitors and the more than 250 who attended Rossi's presentation at the international conference.
Last year he directed the UCT/UKZN Combo at the 32nd IAJE in California.
Part of his travels this year, Rossi also lectured and performed in Florida and Boston where he recorded a jazz CD, for release in the US, with Chamber Jazz and Hofner guitarist and author Anthony Weller.
Fellow musicians have tendered high praise for his book.
Dave Liebman, jazz artist, educator and author, said the book reflects "the seriousness of his [Rossi's] dedication towards informing interested musicians about other ways to conceive of the common jazz vocabulary".
Professor Ulrich Suesse of the Stuttgart Conservatory said: "This is one of the best approaches I've seen towards developing a contemporary language for improvisation and also competition." He added: "Our students and I have experienced Rossi's approach first-hand in workshops and concerts. It's musical fun and liberating!"
Rossi first came to South African in 1989 as a cultural specialist for the US Information Service and began teaching saxophone, his specialty, at the college. In 1999 he won the Fulbright Scholarship in jazz, came out to South Africa with his family and later accepted a post at UCT.
"The kids were young and it was a great opportunity to live in South Africa under a new democracy."
Back in harness at the SACM, Rossi plans to launch a Saxophone Day on April 22, at the Baxter Theatre, and including an exhibitions and evening performance.
---
This work is licensed under a Creative Commons Attribution-NoDerivatives 4.0 International License.
Please view the republishing articles page for more information.
---