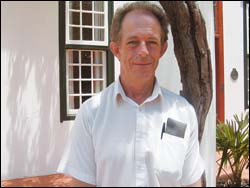 Making things happen: Howard Smith will be graduating with an Mphil in HIV/AIDS and Society.
HIV/AIDS should be seen as a development challenge, much like the legacy of our past.
So says Howard Smith who will be graduating with an MPhil in HIV/AIDS and Society later this week. Smith, a project manager in UCT's Properties and Services Department, was part of the first intake for this new degree in 2002.
"I've always been interested in HIV/AIDS issues and the multidisciplinary approach of the course is what caught my attention. I had been considering part-time studies but I didn't want to pursue any specialised qualification in my professional field."
An architect by training, Smith believes his project management skills can be put to good use in the HIV field.
"South Africa has good policies but has been less effective in implementing them. Project managers are skilled in making things happen. They are also able to recognise problems before they wreck a project," he noted.
His research also confirmed suspicions he had about the representation of AIDS in public discourse and in the media.
Referring to AIDS as an "incomprehensible disaster" or a "tragedy", Smith says, reinforces the pandemic's stigma and tendency to blame while immobilising society and isolating those living with HIV.
"HIV/AIDS can be considered one more public health challenge, much like TB and malnutrition. If we were to refer to AIDS as a challenge it would change people's attitudes towards it. It could be seen as an opportunity to put right things which are wrong and find solutions to the problem."
On a lighter note, Smith said he enjoyed being a student again and accessing the university's services.
"It was pleasant to make use of the library for a change after managing its development as I did as manager for almost two years of the upper campus building project," he remarked. "But being a student while working all day requires a lot of commitment and effort and involved organising my time well. It did help that I thoroughly enjoyed what I was doing. It was a pleasure to set time aside to study."
He also felt at home interacting with staff as a "fellow academic" and found academia to be a stimulating environment.
"I might like to do a doctoral degree to continue researching some of the issues I identified," he added.
But for now, Smith is taking a breather and looking forward to rekindling a much- neglected social life and to resuming outdoor recreational activities.
---
This work is licensed under a Creative Commons Attribution-NoDerivatives 4.0 International License.
Please view the republishing articles page for more information.
---