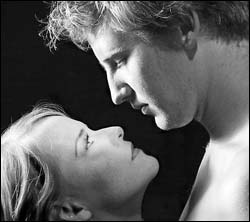 Society Redefines Community Service
With their innovative community service projects and fundraising initiatives, UCT's Golden Key (GK) International Honours Society is redefining the notion of community service.
In the past six months the society has held at least five community service projects, after the new executive committee kicked off with the memorable Corsa Human Chutney Promotion that took place on Jammie Plaza at the end of last year. This raised R5 000 for Aids orphans at Nazareth House.
Next was a joint project with Shawco's art project where GK supported the graduation ceremony of grade fives from Khayelitsha. Their CV Project is another innovative concept, where homeless residents from a shelter in Observatory are provided with proper CVs to assist them in their quest for employment.
More recently, GK hosted a food drive in aid of a crèche that provides tutoring services for promising students from Khayelitsha. It also organised a hugely successful club-hopping outing for UCT students to Stellenbosch. The proceeds will be donated to a charity organisation later this year. A book drive will also be held to collect books and computers for disadvantaged schools.
For more information on past and upcoming events, visit the Golden Key website at www.gk.src.uct.ac.za. Helping hands and volunteers are always welcome.
Passionate exchange heats up the Baxter
Internationally-acclaimed actor, writer and director Steven Berkoff's The Secret Love Life of Ophelia heats up the Baxter Sanlam Studio until May 21 with an age restriction of 16 due to nudity. No stranger to Berkoff's work, award-winning director Fred Abrahamse has assembled a powerhouse cast for this erotic two-hander, with Jenny Stead playing the title role of Ophelia and Mark Elderkin as Hamlet. In this day of internet and e-mail, Berkoff's new play is a stimulating series of passionate letters exchanged between Ophelia and Hamlet, charting their story beneath the surface of Shakespeare's play. It is the story of the relationship between the two young lovers that Shakespeare did not tell us. Book through Computicket or at the Baxter Theatre Centre on tel 685 7880. For block-bookings and charities contact Sharon Alexander on tel 680 3961.
Habitat raises the roof for humanity
The UCT wing of Habitat for Humanity, the ecumenical Christian organisation that builds basic but sought-after homes for the poor around the world, is hosting two fun fundraising events on campus. On May 11, the club is putting on a Comedy Evening at the Baxter Theatre Centre. Some of Cape Town's leading comedians - including Stuart Going Nowhere Slowly Taylor, Paul Snodgrass, Clynton Dunne and Kurt Schoonraad - have agreed to donate a performance, with proceeds going to Habitat. Tickets are available from Computicket at R35 a piece, or R25 for students. A week later, on May 19, the club will let the pillows do the talking when they target a Guinness World Record for the world's largest pillow fight. The event takes place on the UCT rugby fields at 13h00, at a cost of R5 per entry. The club hopes that the feathers will fly.
AIDS candlelight memorial
Please note that the International AIDS Candlelight Memorial, said to be the largest grassroots AIDS event in the world, will take place on Thursday, May 12, between 13h00 and 14h00 in the Jameson Hall. The memorial will give the UCT community a chance to remember family and friends who have died of AIDS and provide an opportunity to demonstrate their support for people living with HIV/AIDS. "It is a means to mobilise a coordinated response to HIV and AIDS as a university community," said the HIV/AIDS Unit's Sean Brown. The event is in its 22nd year and reaches over 3 000 communities in over 85 countries. It is organised by the Students' HIV/AIDS Resistance Programme (Sharp). For more information, please contact the HIV/AIDS Unit on 650 3599, or go to www.hivaids.uct.ac.za.
Sponsorship needed for youth choir's trip abroad
The Council of Music in the German province of Lower Saxony, an umbrella body representing some 1.5 million musicians, has invited the Amanbalengwe Youth Choir cum Orchestra to perform at the annual Masala World Beat Festival in Hannover in June. Under the leadership of Tandile Mandela, granddaughter of former president Nelson Mandela, and Kgaladi Thema, an accomplished percussionist, the choir will also embark on a 16-day tour with concerts in Berlin and Bremen. The tour and festival's emphasis is on presenting contemporary Third-World music to different audiences and educating the German public about traditional Xhosa and Zulu music. Mandela, an accomplished calabash- and mouth-harp-bow player, started her musical career at the tender age of 12, fiddling with a finger piano in the yard of her grandfather's house in rural Qunu. She went on to study music at Natal Technikon and UCT, and is currently enrolled for a master's degree in ethnomusicology at UCT's College of Music. If you are dedicated to the promotion of South African music you can help the group by securing flight sponsorship. For further information e-mail swift_photo_agency@yahoo.com or cell 072 460 7677.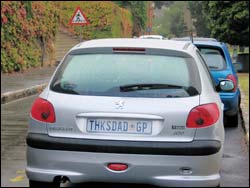 Going the extra mile
It may have irked the damp and bedraggled students tramping up Jammie steps to lectures this early, rainy Friday morning, but its message couldn't fail to warm. The custom registration plate on the nippy silver Peugeot parked snugly behind Fuller Hall said it all: THKS DAD - GP. One wonders: was it dad's idea? A gentle reminder to his offspring on a leafy Cape campus that he'd really gone the extra mile on this one? Or perhaps just a splashy affirmation of eternal filial gratitude?
---
This work is licensed under a Creative Commons Attribution-NoDerivatives 4.0 International License.
Please view the republishing articles page for more information.
---