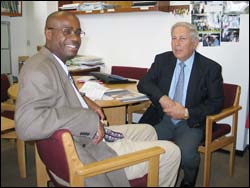 Meeting of minds: (Left) Assoc Prof Kelly Chibale (medicinal chemistry) with Dr Yusuf Hamied, chair and MD of Cipla.
New research on development aid in Africa
New research from the UCT Graduate School of Business (GSB) is set to kickstart a fresh debate around development aid in Africa at a time when world attention could once again be turning towards the continent. The research, which examined the practice of philanthropy at grassroots level in four southern African countries, is the largest study of its kind in the region and is set to challenge some long cherished international development thinking and agendas.
The pioneering research, known as the Building Community Philanthropy Project, was carried out by the Centre for Leadership and Public Values at the GSB and was funded by the Ford Foundation. It set out to build a picture of low-wealth communities in Zimbabwe, South Africa, Namibia and Mozambique - looking at how these communities survive and the patterns of help that exist within them.
Second high-level marketing seminar at the GSB
Andrew Ainslie, professor of marketing at the John E Anderson Graduate School of Management, University of California, Los Angeles (UCLA), will visit the UCT Graduate School of Business (GSB) to deliver a seminar from March 15 to 17 on the process of writing winning marketing plans. The seminar is the second in a series of high-level international marketing seminars being staged at the GSB this year. According to the GSB's Professor Steve Burgess, co-director of the course, titled Rewriting the Marketing Plan, Ainslie's visit is a great opportunity for South African companies to re-examine their marketing strategies. For more information on Ainslie's course at the GSB, contact Junita Abrahams on tel 406 1323 or e-mail abrahams@gsb.uct.ac.za.
Competition seeks global leaders
The Institute of International Education (IIE), in partnership with educational organisations in selected countries, is conducting an annual competition on university campuses to identify 100 of the most accomplished second-year students for the Goldman Sachs Global Leaders Programme. The programme recognises their outstanding achievements and abilities, and awards each Global Leader US$3 000 (over R17 500). Fifty of the Global Leaders will be selected - by interviews - to represent the group at the Global Leadership Institute in New York City in July. Nominations for UCT students close on March 4. For more information about nominations, contact Jerome September at the Student Development and Services Department at tel 650 4647 or e-mail jseptem@its.uct.ac.za. More information on the programme and competition can be found at http://www.iie.org/pgms/global_leaders.
Esteemed visitor
A recent visitor to the chemistry department was Dr Yusuf Hamied, chair and managing director of Cipla, India's second-largest homegrown pharmaceutical company. He was hosted by Associate Professor Kelly Chibale (medicinal chemistry). Cipla has an establishment in South Africa under the name of Cipla-Medpro. Cipla's core business is manufacturing generic drugs, including anti-retrovirals to treat HIV/AIDS. Hamied is a graduate of the University of Cambridge in the United Kingdom where he did his PhD under the late Nobel Prize winner Lord Alexander Todd. Hamied and Chibla discussed collaboration in medicinal chemistry, specifically targeting the diseases of the third world: HIV, malaria and TB as well as other parasitic infections. With 5.5 million people in India infected with HIV, the disease is a fast-growing problem in the country, said Hamied. The World Bank forecasts that there will be 35 million HIV-positive people in India by 2015, almost half of a world total of 75 million. By 2015 China is expected to have 10 million people living with HIV. "Until 1997 HIV was a death sentence. Now, with the cocktail of drugs used to control HIV, it could be regarded as a chronic ailment," Hamied added.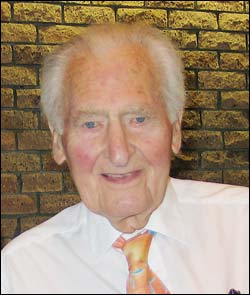 Sir Richard Doll
Epidemiology icon visits health sciences
Sir Richard Doll, widely known for his ground-breaking contributions to epidemiology, visited the health sciences faculty in January while holidaying in Cape Town. He delivered two lectures at the faculty, namely Proof of Causality in Epidemiological Studies, and Fifty Years of Observation on British Doctors with Known Smoking Habits. Sir Richard's research has spanned a range of ailments, including the causes and treatment of peptic ulcers, the effects of smoking; radiation and the occupational hazards of asbestos. A graduate of the University of London, he was appointed Regius Professor of Medicine at the University of Oxford and held that appointment until 1979 when he became the first warden of Green College, a new graduate college in Oxford with a special interest in clinical medicine.
---
This work is licensed under a Creative Commons Attribution-NoDerivatives 4.0 International License.
Please view the republishing articles page for more information.
---