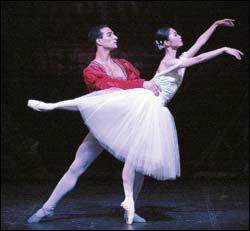 Popular partnership: Tracy Li and Daniel Rajna in the romantic ballet Giselle.
Giselle on at Artscape
Following the sell-out success of its Celebration season, Cape Town City Ballet (CTCB) is preparing to open with Giselle, one of the most popular and enduring romantic ballets of all time. The production will be based on David Poole's version of the ballet and will be danced to music by Adolphe Adam. It is staged and produced by CTCB executive director Professor Elizabeth Triegaardt. Giselle will feature the popular partnerships of Tracy Li with Daniel Rajna and Marianne Bauer with Johnny Bovang in the leading roles. In 2004 CTCB (previously the CAPAB Ballet Company) celebrates its seventieth birthday and the season will be a tribute to the company's founder, Dulcie Howes, who directed the UCT Ballet Company from 1934 to 1963 and CAPAB from 1963 to 1971. Giselle will be on at the Artscape Theatre from June 10-26. Tickets can be booked through Computicket or Artscape Dial-a-seat on tel 421 7695.
Dates to remember
June 18 - June Graduation
August 4 - Long Service Awards
August 25-27 - Vice-Chancellor's Concert
September 10 - Steve Biko Lecture
October 21 - Fellows Dinner
November 18 - Retirees Dinner
November 25 - Distinguished Teachers Dinner
December 6-10 - December Graduation
Boost to sustainable development
In response to the growing need for businesses to embrace sustainable development, the UCT's Graduate School of Business (GSB) is launching a new course that offers a comprehensive understanding of the challenges and opportunities that sustainability presents for the corporate sector. It will also critically review some of the initiatives that businesses, locally and internationally, are implementing in response to these challenges.
"The course provides a critical understanding of some of the best-practice responses that the local and international business community is taking. There is also the opportunity to become part of an alumni network of business practitioners dealing with the implementation of sustainable development," said Jonathon Hanks, convenor of the course.
Hanks added that the development of the course, which runs from August 1-6, is well timed to respond to the growing need for business leaders to make sustainable development a priority. Offered in association with the University of Cambridge Programme for Industry (CPI) and the National Business Initiative (NBI), the course is aimed primarily at middle- to senior-level corporate managers from a range of different disciplines. A number of delegates from the public sector and non-governmental organisations, as well as from other African countries, is also expected to attend.
Hanks will be joined on the teaching staff by Peter Willis, Director of the Southern Africa Business and Environment Programme (BEP), as well as by leading local practitioners.
For more information go to http://www.gsb.uct.ac.za/sustainability, or contact Aniesah Ajam on 021 406 1094 or aniesaha@gsb.uct.ac.za.
Black Caucus meeting today
The next Black Caucus meeting will be held today, May 31, in the Arts Block, Room 100, from 13h00-14h00. Transformation manager Nazeema Mohamed will brief the meeting on the Institutional Climate Survey. The caucus team will also report back on organisational issues around the caucus. All black staff that want to be part of the change at UCT are invited to attend, said convenor Chupe Serote.
HIV testing at Cambria
Confidential HIV testing is now available to all T2, T3 and permanent staff at the Cambria House basement, part of the Direct AIDS Intervention programme. Should you wish to be tested, the service is offered on the last Friday of every month, from 09h30 until 15h30 (rapid test with finger prick test, with immediate results). Staff are also welcome to attend information sessions at 09h30 and 12h00 on these days.
Full kilt
It was a sight for sore eyes, the staffer (or was he a visitor?) striding up Ring Road in the late afternoon a week or so ago, notes-under-his-arm, resplendent in tartan kilt. If you know who this is (presuming he is a member of staff) and can put us in touch with the canny Scotsman, please contact Monday Paper (650-4145). There is surely a story wrapped up in that kilt.
---
This work is licensed under a Creative Commons Attribution-NoDerivatives 4.0 International License.
Please view the republishing articles page for more information.
---