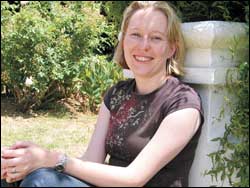 By degrees: Debra Chalmers will graduate with her MBChB (with honours) and a Master's in Public health on December 12.
Debra Chalmers arrives for her interview still buoyed after a night of celebration - and, she confesses, more than a medicinal measure of her favourite French champagne, Billecart-Salmon Rosé (she works part-time in a wine shop).
She had three good reasons to be upbeat. Gathering with the health sciences students in the Barnard Fuller quad to hear the results, Chalmers learnt she had obtained honours for her MBChB. But that's not all. On December 12 she will also be capped with a Master's in Public Health (
H).
During her MBChB studies, Chalmers also managed to chalk up a first-class honours in cell biology.
"It feels like I've been working forever," jokes the Durban-born graduand.
Her academic journey began with a BSc (she graduated in 1999 with distinction in cell biology), but found she leaned more and more towards things medical. After some deliberation, she enrolled for first-year MBChB. As things were quiet (she'd picked up a few credits from her BSc), Chalmers scouted about for something to do, something in a laboratory, something that would challenge her.
"I like having my mind on lots of things and studying things from different angles," she explained. Finding a niche in Professor Sue Kidson's (head of human biology) laboratory, she was soon persuaded to enrol for an honours degree in cell biology.
This she completed in due course, researching vitiligo, a cosmetically disfiguring and often traumatic skin condition, especially in the South African and African contexts.
But Chalmers found she was faced with "frustrating gaps" in her understanding, lacking the tools and insight to be able to interpret data and statistics. Finding a suitable course, she enrolled for the Master's in Public Health course, offered by Professor Rodney Ehrlich's School of Public Health.
In her fourth, fifth and final years of medicine, she was grafting master's courses onto her schedule. Little wonder she laments there's just too little time for leisure reading.
"I swore never to do another thesis," she says.
Funny thing is, she's already planning in that direction.
"I strongly suspect I'll do a PhD," she admits.
She pays tribute to all the faculty stalwarts who supported her during her often convoluted academic career: Kidson, Adri Winckler, her clinical partner Lisa Stockland (who was top MBChB student this year), Ehrlich, and Gail Todd.
In January she begins her internship at Groote Schuur Hospital. Long term, Chalmers would like to be a change agent, working for an international development agency where policy around health services and delivery is created.
At the heart of things.
But first, there's that PhD.
---
This work is licensed under a Creative Commons Attribution-NoDerivatives 4.0 International License.
Please view the republishing articles page for more information.
---