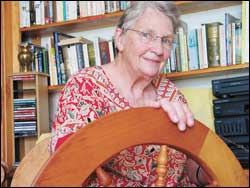 Delys Avni (77) completed her PhD (English literature) in two-and-a-half years.
Earlier, Delys Avni was in the Fish Hoek Library repairing books. Books, books, books. They're stacked up and down the walls of her home, teetering rows of uneven, faded spines, well-thumbed, coddled and cosseted.
She collects them like strays, she confesses, unable to turn anything away. Especially not books by Irish writers or on Irish history. Her PhD thesis, Troubles in Irish Writing: The influence of politics and religion, is a whole-hog effort, spanning Irish writings from 500 BC to contemporary chicklit.
"It is not given to many in their late seventies to resume their first love with such a satisfying consummation," she says with relish.
Twenty years ago, when Jutas in town moved to a new store, they held a clearance sale. Scanning the covers, Avni bought every author that had won any literary prize. Studying her bargains later, she was curious to find that most of the books among her choice cache were by Irish writers.
So began her courtship with Irish history and literature: from William Butler Yeats and Seamus Heaney to Frank McCourt, the 1997 Pulitzer Prize winner of Angela's Ashes fame.
To left is her collection on Yeats. Down the passage, floor-to-ceiling racks of "knowledge books" on Irish history, the key to a river of words - prose, poetry, song, and verse - as long as the Shannon. Every title and author is catalogued. On her desk is a meticulously catalogued system of references.
Avni is at a loss to say why this small island (Ireland is the world's 127th largest country) has yielded so a rich a vein of writers and given so much to literature. The weather? Faeries? Politics? Guinness?
"Probably the stout," she quips. But the latter is true. Politics.
She quotes John Donne: "Sick Ireland is with a strange warr possest/ Like to an Ague; now raging, now at rest –"
In a land beset by "troubles" for centuries and deprived of education and of language, the Irish poured out their strivings and thoughts in song, verse, prose and legend, much of it in Gaelic. Slowly, discontent brewed a kingdom of storytellers.
"Where else do you find a nation that can hold a grudge for 900 years?" she asks. "There's so much more resonance if you understand the history."
Avni's thesis is rooted in her interest in the histories and techniques of guerrilla warfare. She was convinced Ireland's brutal history had engendered a code, a key that unlocks meaning in texts; shibboleths only understood by the cognoscenti, those who recognised the heroes, icons and legends that stood out like beacons through Irish history.
These are shibboleths that many readers may miss, but which offer illumination to those who understand Irish history.
A small example: you may hear the name Kevin Barry bawled out song in an Irish pub. The name will mean nought to an outsider, but to those who know Irish troubles, it's a name associated with their struggle for liberty: "Lads like Barry are no cowards./ From the foe they will not fly./ Lads like Barry will free Ireland,/ For her sake they'll live and die."
Here's another: in folk mythology, there are many references to the Black Pig's Dyke, a series of "earthworks" that roughly constitutes the southern border of the province of Ulster.
In folklore, the appearance of the Black Pig is generally seen as warning against an "imminent Armageddon". Yeats, in one of his Celtic Twilight poems from The Winds Among the Reeds (1899), mentions the Black Pig, understood to be a symbol of apocalypse.
Avni's thesis tapped into all forms of Irish literature, from the earliest oral legends, through sagas, folklore, poetry and ballads; from the earliest political writings to recent journalism and fiction.
"All have provided examples of the resonance these shibboleths have added, and still do, to Hiberno-English (the Irish dialect of English) texts and translations from the Irish."
Avni's supervisor, Professor Lesley Marx (English language and literature) wrote in the citation: "Readers of the thesis have been enormously impressed with the range, depth and thoroughness with which it engages its vast project. Written with verve and wit, it is testimony to Delys Avni's astonishing intellectual energy and passion for her task.
(Marx's co-supervisor was Professor Henning Snyman.)
Avni obtained her initial BA (with 11 courses, no less) from UNISA while working and bringing up three children alone, returning to scholarship when they were grown. (Joe is production editor at the Sowetan, Wolf has a trout hatchery in the Underberg and Verle has an MCur, a nursing degree.)
Few know that she has diplomas in textile technology, general nursing and midwifery.
"I also pedalled drugs on the street," she says.
It's a euphemism for her former job as a provincial manager for a large pharmaceutical manufacturer. But she likes the bawdier version; it's lusty - and it makes a memorable anecdote.
She's a storyteller in her own right, editing chapters of her own life with a dismissive sweep of her hand.
In returning to university, Avni was awarded her honours and master's degrees cum laude in English and was offered a series of bursaries to continue her studies. This amuses her - the "old white woman".
Her academic stamina is attributed to a remarkable ability to concentrate for long periods, past cold and other discomforts that are surely more acute at 77.
Avnihas lived a sometimes hard life; she has an intimate knowledge of "troubles". A teenage freedom fighter, she worked underground in Israel in the late 1940s, trained by an IRA operative.
The Zimbabwean-born girl, who'd learnt to track as a child, living off the fat of the land (she scoffs at the TV Survivor series, watching it for sport), learnt to live by her wits; in sewers, hiding, evading detection.
"It was 'honourable' warfare in those days. You didn't target women and kids," she says.
The chapters of her life can be distilled to a single word: survivor.
But she's not an idealist any more, she says, waving her hand - it's all in the past now. She'd rather talk of Irish writers.
Besides her treasure of books, Avni has a collection of working spinning wheels, the iconic symbol of myriad myths and legends (Sleeping Beauty, Rumnplestiltskin, et al). They're perfectly at home in a cottage with its backdrop of books and the deep green tangle of trees and shrubs outside her windows.
"I always wanted to live in a spinney."
It's restful, protective even for a woman who says she long ago gave up looking over her shoulder.
"I have never been so happy and content since turning 70."
She wants this message spread about. It's meant to motivate "other old bats out there".
"It's a time of no responsibility or obligations. Everyone spoils you - giving up the comfy chair. Enjoy what you have now and not what you had. But you must prepare for it: pension, hobbies - buy all the things you think you will need. Store up treasures for your little heaven."
The citation for next week's graduation says new horizons and knowledge beckon Avni.
"For her this is just the beginning."
The graduand agrees. Did she mention her interest in semiotics, the study of signs and symbols? (There's a gleam in her eye.)
But it's probably a wily excuse for more books.
---
This work is licensed under a Creative Commons Attribution-NoDerivatives 4.0 International License.
Please view the republishing articles page for more information.
---