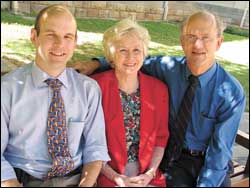 Family footsteps: Richard van Zyl-Smit (left) with his mother, Dr Jean Firth, and father, Assoc Prof Roal van Zyl-Smit, who will cap both his wife and son on December 12. Jean will receive her PhD and Richard his MMed.
Medicine has become a firmly-rooted family tradition. Graduation week will see Associate Professor Roal van Zyl-Smit, head of medicine at New Somerset Hospital with an MD from UCT, capping not only his wife, but his son also.
Dr Jean Firth will graduate with her PhD, and their son, Richard, with his
ed degree.
Firth, whose father was not a doctor but a farmer, works at the Lipid Clinic and graduated from UCT with her MBChB in 1976. Van Zyl-Smit junior is a senior registrar in the Respiratory Clinic and graduated from UCT in 1996, 30 years after his mother.
Schooled at Grey College in Bloemfontein, father and husband Roal graduated with his MBChB from the University of the Witwatersrand and, as his wife jokes, it was she who persuaded him to pursue postgraduate studies in Cape Town, where she was based.
Having interrupted her career to have children, Firth has a personal message to other women in academia, who must often balance motherhood and career goals: "Having children is a unique female privilege and it is the most special thing you can have. Don't lose out on the pleasure and reward of being with your children and rearing them yourself. Little else can compare with this joy. You can always return to your profession and achieve your dreams."
Her PhD was on the Cape Town experience of familial hypercholesterolaemia. She first graduated in 1966 when women comprised only 10 percent of the class.
"The second year was spent dissecting a cadaver and we spent most of the time sitting next to this body," she reminisces. "The women were in a separate room but were looked after very well by 'Oom Daan', who kept us supplied with hand cream and fresh flowers. We were also not allowed to do our baby catching in District Six as it was considered too rough!"
The Van Zyl-Smits'daughter,' daughter, Cathy, is also a doctor (UCT, 1995) and is married to David Savage, also with an MD from UCT. Cathy practices in the United Kingdom and the couple has two children.
Firth believes many children are put off medicine if their parent is a doctor.
"But from a young age our children both seemed to know that this was what they wanted to do in life."
You can probably bet your Christmas pudding that at least one of the grandchildren will show the same symptoms.
---
This work is licensed under a Creative Commons Attribution-NoDerivatives 4.0 International License.
Please view the republishing articles page for more information.
---