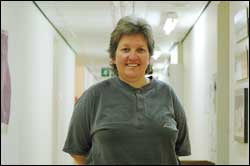 Doctors in the making: Bongi Bangeni and Dr Theresa Lorenzo are but two of the success stories of UCT's Emerging Researcher Programme.
A few short years back, Dr Theresa Lorenzo, then a PhD student, had hit a wall.
Halfway into her doctoral work, Lorenzo, a senior lecturer in the Division of Occupational Therapy, realised that her thesis, on boosting the economic and social development of disabled women, was lumbering ahead at no more than a snail's pace. In a field - disability studies - where research is a rarity to begin with and with few other local academics to turn to, she felt very alone.
"I was finding it a very isolated experience," she says.
It was then that she turned to the Emerging Researcher Programme (ERP) of UCT's Research Office. The aim of the programme, started three years ago as the first of its kind in the country, was clear cut - help promising researchers (they don't even have to be that young) register for and complete higher degrees, get them publishing, and, if everything falls into place, see them land a rating from the National Research Foundation (NRF).
"This is a creative and innovative attempt to support excellence and equity,' says Deputy Vice-Chancellor, Professor Cheryl de la Rey, champion of the programme.
To steer the researchers in the right direction, the Research Office contracted four retired UCT scholars with proud research track records of their own as senior research scholars - Professors John de Gruchy (religious studies), Luigi Nassimbeni (chemistry), Henning Snyman (humanities) and Gerhard de Jager (electrical engineering). These four are on hand with words of counsel that are both discipline-specific and generic.
The programme features both one-on-one and group sessions, as well as seminars, workshops and retreats on a host of topics, such as accredited publications, research planning and funding.
Young researchers join the programme voluntarily, nominated either by themselves or heads of departments. Membership has grown more than threefold in its three years - from 47 researchers in 2003 to almost 180 this year.
For Lorenzo, the ERP was just what the doctor ordered - she graduated in June. She found everything in the programme of use, from De Gruchy's seminars on career planning to the workshops on the supervisory relationship - invaluable to her both as a student and a supervisor - to the string of new contacts she made in other departments and faculties.
"If it wasn't for the Emerging Researcher Programme, I would probably still be working on my thesis now," she says.
If the ERP helped Lorenzo draw her doctoral work to a close, it jump-started that of Bongi Bangeni, a lecturer in the Language Development Group (LDG) in the Centre for Higher Education Development (CHED). She was among those in the founding group of 2003, joining when she started thinking about a topic for her PhD.
She hasn't looked back since.
"The programme has helped me shape my proposal, what to focus on," says Bangeni. "It has helped me plan the writing of the thesis, helped with putting in place long- and short-term goals, and with how to achieve them."
Dr Aninda Chakraborty, a senior lecturer in the Department of Chemical Engineering, signed up for the programme soon after joining UCT from the University of Illinois at Chicago in the US in 2004. Born in the UK but trained in India and the US, he was eager to learn more about South Africa's and the university's research setup, and about his own place as a researcher in that design.
"It has been very useful for learning about the big picture," he says.
Chakraborty, who specialises in computer-aided modelling, simulation and optimisation of chemical processes - models he has applied to industrial case-studies both locally and abroad - is about to "graduate" from the ERP. He's on the verge of applying for his first NRF rating.
He wasn't keen on the idea initially, though, as he didn't see the need. Until he attended his ERP seminars, that is, and all the pieces fell into place.
Jot that down as a victory for the programme.
---
This work is licensed under a Creative Commons Attribution-NoDerivatives 4.0 International License.
Please view the republishing articles page for more information.
---