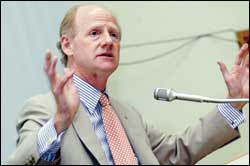 Canada on course: John Ralston Saul shares thoughts on Canada's multiculturalism at the launch of the South African Association of Canadian Studies (SAACS) at UCT last week.
If we are to believe Bush-whacking American filmmaker Michael Moore, gun-shy and socially-conscious Canada is just about the closest thing to heaven on earth.
Canadians probably like to think so as well, but they will admit that they have their issues. Like the fact that Canada is, crudely speaking, a land of three different peoples - Aboriginals, English and French - with a healthy helping of immigrants from all corners of the globe.
Yet while other countries appear at a loss to cope with that tinderbox of modern polyculturalism, Canada seems to manage well enough, thank you. Which may go a long way to explaining why UCT, together with the Universities of Stellenbosch and the Western Cape, last week launched the South African Association of Canadian Studies (SAACS).
The aim of the association is, as its name suggests, to promote in South Africa the study of all things Canadian, and vice versa.
So, says UCT's Professor Crain Soudien, a founder member of the group, the SAACS plans to arrange student exchanges, collaborative research projects, and many public talks around heritage, education, literary studies and science. Not forgetting, of course, Canada's amicable diversity.
"It's how Canada dealt with that issue that we are so deeply interested in here in South Africa," says Soudien.
According to John Ralston Saul, the philosopher, historian, novelist and author of the recent The Collapse of Globalism, who delivered the keynote address at last week's launch, the key to that success story may be the model of a non-monolithic nation state - which flies in the face of the western notion of a nation state - that has been 400 years in the making in Canada. Canada is a nation state of minorities that, yet, is something more than just the sum of its multicultural parts, said Ralston.
"It's not just about the parts, it's about the very complex relationship between the parts in which they are at the same time one and separate."
That's a maple leaf many could take out of Canada's book.
---
This work is licensed under a Creative Commons Attribution-NoDerivatives 4.0 International License.
Please view the republishing articles page for more information.
---