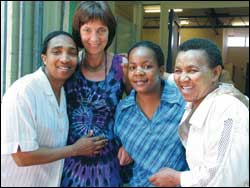 Strike team: Dr Mercy Kamupira (second from right) with members of the Partners in Prevention team (from left) Nombulelo Mabuto (research nurse,) Susan Lindsey (data manager), and Nozizwe Makola (community educator).
A recently unveiled study at a Guguletu clinic is helping HIV-negative partners in discordant relationships - where the other partner is HIV-positive - maintain their negative status while providing a platform for a genital herpes treatment trial.
Operating under the banner of Manyanani@Empilisweni ("Come together to the Wellness Centre"), the Partners in Prevention study is being conducted by the Infectious Diseases Epidemiology Unit in the School of Public Health and Family Medicine, headed by Professor Rodney Ehrlich.
The Empilisweni Centre is an established site for conducting HIV prevention trials by the unit. The principal investigator for the study is Dr David Coetzee.
Study coordinator Dr Mercy Kamupira says that over 40 studies over the past 15 years have shown that genital herpes, a common sexually transmitted infection, is a huge risk factor for the transmission of HIV as the open ulcers provide gateways to and from the body. Although the ulcers can be treated, genital herpes infection is not curable.
HIV-infected people with genital herpes infection are more likely to transmit HIV even when there is no ulcer present, because they can shed large amounts of HIV.
This study is the first to evaluate whether HIV transmission can be reduced by suppressing genital herpes with the widely used prophylaxis, acyclovir.
"Up to 90% of HIV-infected people worldwide are infected with the herpes simplex virus type 2 (HSV-2), the genital herpes virus."
Researchers believe that acyclovir suppression could reduce HIV transmission through genital herpes by 50%.
"If successful, the study could lead to an important new approach to HIV prevention in South Africa," Kamupira says.
Operating from the Uluntu Centre in Guguletu, her team will assess the efficacy of a daily 400mg dose of acyclovir in participants who are both HIV and HSV-2 positive.
Similar studies, all funded by the Bill and Melinda Gates Foundation, are being conducted elsewhere in Africa, under the same umbrella. There are six sites in East Africa (Kenya, Uganda, Tanzania, Rwanda) and six sites in southern Africa (including Orange Farm and Soweto in Johannesburg, Botswana and Zambia).
Researchers hope to enrol more than 3 000 couples at the 12 sites. Each couple will be tracked for a year, with screening and treatment for other sexually-transmitted infections. They will also receive condoms and risk-reduction counselling.
A medical graduate of the University of Zimbabwe and with a master's in public health from UCT, Kamupira hopes the study will provide material for a PhD in public health.
"UNAIDS statistics show that in Africa, most HIV transmission occurs in stable relationships," Kamupira says, "with the HIV-positive partner infecting the HIV-negative partner."
As a means of preventing HIV, the simple strategy of testing couples for HIV eluded health organisations for too long.
"We should have thought of this earlier," Kamupira says. "In many ways it would have made HIV prevention and education campaigns that much more effective."
Since March this year, 120 couples from the Guguletu and Nyanga communities have attended couple HIV counselling and testing at the centre, with community educators working hard to educate the community about the benefits of knowing their HIV status as couples. Of the 120 couples counselled and tested, the majority are concordant negative, with 30 discordant couples - or one in every four couples. (Statistics show that 30% of women attending antenatal clinics in 2004 in the Guguletu community are HIV infected.)
The Cape Town site hopes to enrol 225 discordant couples in the study over two years.
And even if couples do not join the trial, they still benefit from the full spectrum of HIV management and counselling services the clinic offers.
There are difficulties to couple counselling, says Kamupira.
"It's hard enough getting one person to have an HIV test. Communication between the partners has to be very strong."
---
This work is licensed under a Creative Commons Attribution-NoDerivatives 4.0 International License.
Please view the republishing articles page for more information.
---