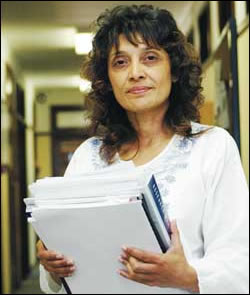 Helping hand: According to staff and students, Narima Panday is a star.
Easing postgraduate students into the School of Public Health is something Narima Panday puts great effort into. And it shows.
Staff and students alike heap praise on Panday for "going the extra mile" to make sure that the some 35 students who enroll each year get the most out of the course.
"I do put a lot of time and effort into my job," she says.
Despite being a single mother of a 13-year-old daughter, she puts in long hours and seldom leaves the office before 18h00.
Panday has administered the School of Public Health's postgraduate course for two-and-a-half years, but after more than 12 years in various posts at UCT she admits she's "like part of the furniture".
Her duties range from deciphering UCT's often-daunting bureaucratic red tape for new postgraduate students, to helping the course convenor select 35 local and international students from more than 100 applications.
Irish student, Sebastian Keveney, who nominated Panday as a five-star staffer, says: "As an international student, I faced a number of challenges when I first arrived here. Narima was consistently helpful in the adjustment process.
"She hosts the social event for new postgraduates in her own home every year and even offered to assist me in my search for accommodation when I first arrived." Panday is admired by staff and students for her ability to simplify seemingly complicated matters and for her ever-cheerful attitude.
"She is always happy to help, whether it's with finding the right dentist in a medical emergency or where to get the best-value-for-money sushi," says Keveney. "She can do this because of her own extensive experience, which is irreplaceable. She has helped to make a success of the Master's in Public Health programme, which is growing in popularity and stature every year."
Modest about her efficiency and the positive spirit she brings to her job, Panday smiles and puts it down to being able to relate to the students.
"I've experienced the difficulties of juggling study with work, so I try and smooth things over for them. The faculty office registers them and I do all the rest to ensure they settle into the programme," she says.
Panday has an honours degree in education and an advanced diploma in adult education.
If you would like to nominate a 5-star staffer, contact Helen Théron
---
This work is licensed under a Creative Commons Attribution-NoDerivatives 4.0 International License.
Please view the republishing articles page for more information.
---