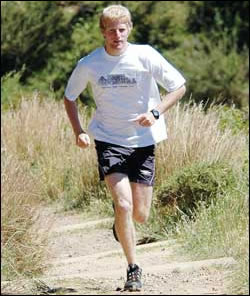 Bouldering blond: Ake Fagereng has won his second Three Peaks Challenge. And many more 2005 races.
Ake Fagereng, 23, has been orienteering since he was just an eight-year old in Norway, and has been bounding up mountains competitively since he was 17.
Exhausting it may be, but Fagereng, a geology honour's student at UCT, thinks it all very relaxing. And not nearly as boring as plodding endless miles on tarmac, he says.
"I find it a great way to get away from things. And it's a great way to see new places in a different way."
But it's more than just a means for zoning out and sightseeing, as he's done pretty well for himself in the both sports, especially mountain running. He was in the winning team in the Hong Kong Four Peaks Race in 2001, finished fourth in the 400km SA Adventure Racing Open in 2002 (the year he first came to UCT), and last year won the local Three Peaks Challenge, his maiden big win in South Africa.
But all that pales next to what he's managed in 2005.
So far he has been runner-up in the Hout Bay Challenge and the Table Mountain Challenge, won the 80km Midnight Hell Run (in record time), is the South African orienteering champion in the short distance, was part of the UCT team that took the title - to everyone's surprise - in the 150km Wildman Challenge, overall champion of the Quantum Adventure Challenge, and with UCT cyclist (and runner) William Robinson also finished top of the pile at the Atomic Mast Race.
And just over a week ago he successfully defended his Three Peaks title, finishing in 5:46:53, some 41 minutes ahead of his nearest challenger and almost 50 minutes faster than his 2004 time. He also posted the fastest time for each individual peak.
In the Three Peaks Challenge, for those who don't know, runners start off at Greenmarket Square in the centre of Cape Town, run up Devil's Peak, return to Greenmarket Square, hotfoot it up Platteklip Gorge to Maclear's Beacon on Table Mountain, make their way back to the starting point in town, then scale Lion's Head before making a final beeline for Greenmarket Square.
(Dr Arvind Varsani of the Electron Microscope Unit also managed the Hell Run/Three Peaks double in 2000.)
Little wonder that Fagereng has been affectionately dubbed a "Norwegian mountain goat" by UCT teammate Robinson. And such is his reputation that fellow competitors resign themselves to runners-up status when they see his name on the registration list of any competition.
"2005's been good," he says.
And he hasn't quite finished. He's been selected for the four-person Suunto South Africa team to vie against some of the world's best in the Red Bull Cape Town Man, an extreme kite-surfing, mountain biking, mountain running - his leg - and paragliding relay race in Cape Town on November 19. Then he joins 10 other members of UCT's Mountain & Ski Club for their Patagonia Expedition in the Argentine outback between November and January next year.
But he's watching that he doesn't overdo things as he plans to compete for a while yet. So he makes sure he gets plenty of rest after training and events, and doesn't compete too much.
"If I'm fast now and I train right, I'll be even faster in 10 years."
Mountain goats beware.
---
This work is licensed under a Creative Commons Attribution-NoDerivatives 4.0 International License.
Please view the republishing articles page for more information.
---