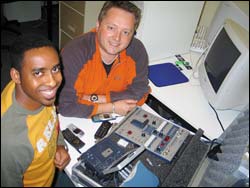 People first: Assoc Prof Gary Marsden (right) and PhD student Dynal Patel, who is designing a browsing system for camera phones.
Associate ProfessorGary Marsden jokes that it was a London office with no windows that brought him to South Africa. In the computer science department, his office has a window, and a view, a vital connection to the world outside. In his work, connections are everything, especially between technology and people in a wireless era that seems to spawn more and more gadgetry.
In his new book, Mobile Interaction Design, co-authored with Matt Jones, Marsden tackles the importance of human-centred design. It was even the topic of a seminar he presented at the postgraduate centre, part of PhD student Dynal Patel's Harry Crossley Fellowship commitments.
Patel is a member of Marsden's high-impact research team looking at developing interfaces and devices that are sensitive to human needs, desires and capabilities. He is designing a photo browser, Funky Zoom, a device for the small screens on mobile phones and personal digital assistants (PDAs), allowing the user to scroll down through the photos.
The development is significant when you consider that Samsung's seven mega-pixel camera phone, which comes with a 4Gb hard drive, can take thousands of pictures.
"But how will you find your photographs?" Marsden asks. "Most people like to carry their favourite pictures in their wallets."
The phenomenal success of mobile camera phones is a clear case of when technology gets it right, it sells. As Marsden says, "Nokia is now the biggest seller of cameras in the world."
In Africa, the annual growth rate of cell networks is 68%, the highest on the globe (so much for the technological backwater), outstripping even southeast Asia with a mere 34% growth.
"The fact that 43% of South Africans have cell phones is indicative of how much value people place on wireless technology," Marsden adds.
But effective, human-centred design is an increasingly vital context of mobile systems. As an interaction designer, Marsden "sits" between the people who design the software and the people who end up using it.
"I design the interaction between humans and computers."
A PhD from Stirling University in Scotland, Marsden worked at the Interaction Design Centre at Middlesex University. Since moving to South Africa, he's been forced to reconsider his views on technology and human computer interaction (HCI) in particular. He's become increasingly convinced of the importance of an ethnographic and action-research based approach to interaction design.
"Most abstract and clean theories of technology and human-computer interaction seem to fall flat in the developing world."
What is the future of wireless technology? More gadgetry? More "must-have" toys? Handhelds, wearables, badges, radio frequency identification (RFID) tags?
With mobile phones the ubiquitous accessory for over two billion users, we're told that wireless devices represent technological Utopia, helping us work faster, smarter, better.
But often the hype surrounding new developments is followed by a thud. Disappointment.
Design must shift from technology to usability.
"It's looking at people, how they live their lives and then creating bold technology, something that helps their lives."
Many developers of wireless technology are missing the mark by miles. There's the well-documented WAP (wireless application protocol) war. WAP is considered to be something "dreamt up by engineers". Functional but little else.
"WAP is crap" is one of the taunts repeated by users of phones with wireless application protocol browsers that allow users to access Web content on their phones. It takes ages to download anything, and who wants to browse the Web on a mobile phone anyway? The developers missed the vital human connection.
Take the wireless application that allows dad to read a bedtime story to his daughter 1 000km away. Nice, but impractical. You'd need two copies of the book. Where would the camera be focused? On the book or on dad's face? And isn't reading a bedtime story all about snuggling up, turning pages together and knowing when to tiptoe from the room? Nuances you couldn't hope to capture via technology.
"They're solving the wrong problem," Marsden elaborates. "Whatever technology is created has to be tested against reality.
"The short answer is that the future of wireless is less about technological spawning and more about people."
Do we really need a palm-held device that is a mobile phone, plays movies and music, etc, the communications equivalent of the Swiss knife: handy in a fix, but not really doing any one thing particularly well.
Marsden owns such a device - but admits that after the initial novelty factor, he lost interest. This probably explains the phenomenal sales of iPods (10 million sold last quarter) and PDAs (nine million sold last year). They're designed to do specific things really well.
He also dispels that idea that the future will be built around radio frequency identification tags (RFID): tags in money, tags in goods, tags in people, an Orwellian future hinting at total surveillance and infringements of civil liberties.
"We are a little suspicious of radio frequency identity technology, where everything becomes a computer," Marsden says.
Technology has got to speak to people," he concludes. "The emphasis is on smart people, not smart phones. No amount of marketing will sell a product that does not speak to people."
(Mobile Interaction Design will be released on November 18, and is published by John Wiley and Sons, Ltd.)
---
This work is licensed under a Creative Commons Attribution-NoDerivatives 4.0 International License.
Please view the republishing articles page for more information.
---