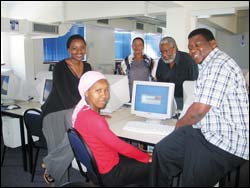 Logged on: Liesbeeck Gardens' computer laboratory has more than doubled its capacity, providing 50 workstations for the 428 students. Inspecting the facility are (from left, back) Chileshe Kapkapula, Namakhaya Kamwendo (residence development officer/warden), Dr Chirevo Kwenda (warden) and Ishmael Motlhanke (residence administrator). (Seated) Incoming head student Aisha Mthimkulu.
In the far corner of Liesbeeck Gardens, the lights burn into the small hours. This is more than a rash of exam fever. The attraction is the recently commissioned, state-of-the-art computer laboratory with its 50 spanking new work stations.
The facility has replaced the smaller sibling of 2001 and more than doubled its capacity. Until the new lab opened, a mere 20 computers served 431 senior students, including a host of postgraduates, even more than the 428 currently housed there.
"This is really a milestone for the residence, especially at this time of year when students refusing to be allocated to the residence often complain (out of ignorance) that Liesbeeck has no computer lab," warden Dr Chirevo Kwenda (religious studies department) said.
The refurbished facility was created from a board room and former flat at the vast complex. It offers the full range of computer services and operates from 12 noon until 02h00.
Kwenda says there are plans to install Internet points in the rooms so that students can use laptops and personal computers.
But it's been a hard-won battle, fought with some resolve by the student leaders. Chileshe Kapapula, outgoing head student for 2005 recalls: "The achievement did not come easy, it took a march by the Liesbeeckians to student housing and Bremner. However, we are grateful that we finally got it."
She lauded the role played by the house committee of 2004, led by Nqobizita Mlilo and all the residents, as well as the efforts of deputy vice-chancellor Professor Thandabantu Nhlapo, "who ensured that we got the facility", and Dr Ian Mackintosh and his executive residence committee.
Kapapula says the lab is only the beginning of the transformation of Liesbeeck Gardens "There is still more to be done. The challenge remains for the incoming leaders to continue fighting for the necessary resources that we need as students in order to deliver the high expectations that the highly standardised UCT expects of us."
---
This work is licensed under a Creative Commons Attribution-NoDerivatives 4.0 International License.
Please view the republishing articles page for more information.
---