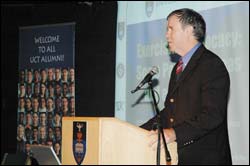 Creativity is essential: Prof Tim Noakes.
Amusing anecdotes, personal stories and recollections, research findings, theories, conclusions and speculations, historical examples, enlightening insights into the structure of team work (on and off the field), and comparisons between sport and warfare.
All this and more is what Professor Tim Noakes gave an appreciative audience at the third Alumni Leadership Forum in an address titled Exercising Advocacy: Some Personal Ideas and Experiences.
Noakes was the guest speaker following the AGM of the UCT Convocation and Alumni Association.
An A-rated researcher and director of the MRC/UCT Research Unit for Exercise Science and Sports Medicine (ESSM), Noakes is one of UCT's most prominent figures, based at the Sports Science Institute of South Africa, which, he notes, is favourably situated in the "centre of the golden triangle made up of the Newlands rugby ground, the Newlands cricket ground, and a very well-known brewery".
Paying tribute to UCT alumni, including Chris Barnard, Rob Brink, Nick Mallett, Gary Kirsten, Lewis Pugh, Marilyn Anne Noakes (his wife), Lucas Radebe and (honorary alumnus) Morné du Plessis, Noakes talked about their leadership qualities, highlighting how Barnard had led the pack in his research field because he was able to "think out of the box". Noakes suggested that UCT should consider creating a permanent physical space to celebrate UCT's luminaries, including its three Nobel Prize winners.
In his personal recollections, Noakes talked about crossing swords with the likes of rugby chief Danie Craven, expressly over the notion that teams should not be overtaxed during the annual cycle of matches.
Noakes' message was that the very high level of fitness required by athletes is often underestimated, and that peak fitness requires a combination of practice, playing, resting, and motivation. His argument was that, as a nation, we should be more strategic in how we use our best sports people in order for them to remain at the top of their game.
He also shared insights into one of his more recent exploits, supporting swimmer Lewis Pugh in his recent Arctic swim, as a way of illustrating how medical science can assist sports people to beat the odds. In Pugh's case, he asked a question: "Can I swim around the Cape Peninsula?" and Noakes said the simple answer was "yes".
The more complex answer included a rectal thermometer, and two PhD students calculating the time that Pugh's body would take to reach its lowest temperature before hypothermia set in. This study led to Pugh taking the title for World Furthest North Swim in Verlegenhuken in August 2005, with a 20-minute swim through cold Arctic waters, under the watchful eye of Noakes and his team.
After taking a tour through a wide-ranging list of historical examples, he concluded his talk with the following advice for those who wish to break new ground:
creativity is essential
begin with the end in mind
don't play the "blame game"
promote progress by accepting full responsibility for any outcomes resulting from the actions of others.
leadership and management are two quite different sets of skills.
- Catherine WynSculley
---
This work is licensed under a Creative Commons Attribution-NoDerivatives 4.0 International License.
Please view the republishing articles page for more information.
---