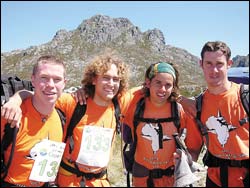 High climbers: Craig Peters, Killian Hagemann, Stijn Laenen and Sam Jack have won the Boland 90 Challenge, the second UCT team in two years to do so.
It's amazing how habit-forming winning can become.
For years the UCT men's side had to settle for second best at the Hi-Tec Boland 90 Interclub Hiking Challenge, staged in the Hottentots Holland Mountain range just outside Grabouw. That hurt, not least because the event is "the Comrades of the mountaineering community", in the words of Anthony Hall, chair of the UCT Mountain & Ski Club.
Then in 2004, a young UCT team, including Hall, finally took top honours. And a few short weeks ago, another UCT side - 2004 team members Killian Hagemann and Stijn Laenen, along with Sam Jack and Craig Peters - carried the day again.
Actually, that should be three days, the duration of the competition that ran from September 29 to October 1. Over that time about 40 teams of four completed a total of six legs, including a rugged, 30km hike each day.
This is not just a race to see who finishes first, though. Rather, teams also have to complete a mixed bag of tasks on each of the two legs covered each day.
"The tasks can be anything the organisers can think of to throw at you," says Hall.
This year these included simulating a first-aid emergency, pulling off a staged rescue and reading weather patterns. And, of course, you have to make sure you don't get lost.
Which both UCT's men and women's teams managed admirably, the women losing by a whisker and some punitive marking.
UCT's successes over the past two years could easily be put down to its new preparation routine, first introduced last year. For a week or so before the event, home for the UCT squad is the Mountain Club of South Africa's hut on Table Mountain.
The students hike to campus in the morning, and back to the hut in the evening, where they overnight.
"If you think you [in the challenge] have to be able to hike 30km a day in the minimum time given, and still be fresh enough to do a task and get your navigation right, it all helps." Even if you have a mountain to climb.
---
This work is licensed under a Creative Commons Attribution-NoDerivatives 4.0 International License.
Please view the republishing articles page for more information.
---