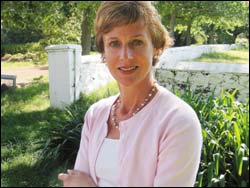 Change agent: Senior lecturer Dr Lindsay Weight (human biology).
Though equipped with a PhD in exercise science and an honours degree in psychology, senior lecturer Dr Lindsay Weight says she was used to teaching "by the seat of my pants"; by instinct, never quite sure of the nuances or theory of the craft.
"I think that we all tend to teach by instinct. The way we teach is based on who we are, by our personalities," she adds. "I didn't know any of the literature or theories on education."
In a faculty that has seen some sea change in the past years, particularly the introduction of the new medical curriculum in 2002, and with 680 science and medical undergraduates to teach each year, Weight said she felt hamstrung, led only by a negative model of teaching.
"I knew what a bad teacher was and tried not to be that."
It wasn't enough. Several of her colleagues were doing or had completed the Higher Education Studies (HES) programme, in the Centre for Higher Education Development (CHED), a thorough, four-module immersion in teaching theory and practice leading to a postgraduate diploma or even a master's degree.
"We had been through an astounding amount of change within the faculty: 40 departments compacted into 11 within five schools and the introduction of the new medical curriculum at the same time."
Though she speaks glowingly of this "evolution", the process was costly to teaching staff. They were left with too little time to reflect.
"We just managed crises - repeatedly."
Feeling increasingly lost and frustrated as she grappled with the changes, Weight said she envied her HES-trained colleagues - their confidence in meetings about education issues, their success in the classroom.
"I felt that I didn't know what they knew, the educational discourse they had access to."
Once she had stopped procrastinating due to work and time pressures she signed up for the course this year. Though it stretches her schedule, she says it was undoubtedly worth it, considering the forces that shape teaching: transformation, institutional culture, diversity, changing academic identities, value systems...
But most valuable - empowering in fact - has been the insight into the bigger picture, the global forces shaping education.
The HES programme is in its fifth year, having been established specifically for UCT academics to develop their professional skills. About 50 students (the majority are academics) have attended one or more of the HES courses.
Weight is in the third of four modules, each a semester long. She uses her own data for assignments so that these are directly relevant to her teaching and practice - they become an applied, potentially publishable body of work.
Weight also enjoys talking to fellow classmates in other teaching fields and from other educational institutions - like fashion design, contrasting the artistic mindset of a fashion college with the more conservative outlook of a medical school.
"This is where I've learnt the most," she adds, lamenting, "There's never enough social time.
She is indebted to the human biology department for providing this opportunity.
"Departments need to understand how necessary it is for staff to have time to do this course."
She also urges departmental heads to implement the new ideas their staff bring back to the lecture room, as hers has.
Dr Suellen Shay, convenor of the HES programme in the Centre for Higher Education Development, agrees.
"One of the main benefits is that people become key change agents in their department, catalysts of better teaching practice."
---
This work is licensed under a Creative Commons Attribution-NoDerivatives 4.0 International License.
Please view the republishing articles page for more information.
---