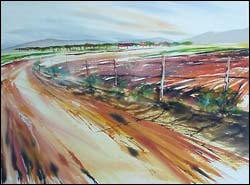 Different strokes: Watercolour by Prof Raj Ramesar.
History is studded with examples of people blessed with creative genius in a range of endeavours. The most iconic is perhaps Leonardo da Vinci. What are the chances of being scientifically and artistically articulate? Geneticist Professor Raj Ramesar, director of the UCT/MRC Genetic Research Unit provides a personal window on the question of genetic inheritance and artistic creativity.
A dyed-in-the-wool scientist, few know that he is also an accomplished artist (water colours). He got "seriously interested" in painting 20 years ago during his PhD, and took lessons from an artist in Diep River. Some of his works hang in the dean's suite in the Barnard Fuller Building.
Although he says there are no "overt" painting skills evident among his ancestors' estates, there are design skills: embroidery and clothing design. As a scientist, he is unusually blessed - not many can boast of being artistically articulate.
"Researching the notion of maths/science fundis being artistically inarticulate is a wonderful subject for research. I don't believe this notion. However, there are various aspects of brain function that one needs to interrogate re the notion of intellectual ability (in all its forms) and artistic expression (in all of its forms). Interestingly, there are families in which one sees intellect and artistic ability inherited together.
"In my instance, it may just be an accident that I enjoy scientific research and art; equally I see scientific and artistic creativity as aspect of the same bigger pool of creativity."
---
This work is licensed under a Creative Commons Attribution-NoDerivatives 4.0 International License.
Please view the republishing articles page for more information.
---