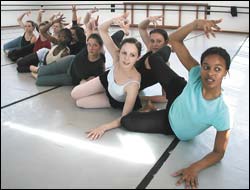 Dance UCT 2005
Dance UCT 2005, on at the Baxter from November 2 to 5, is a vibrant programme of varied dance styles highlighting the versatility of the students and the diverse dance styles offered at the UCT School of Dance.
The programme, which runs on Friday at 20h00 and Saturday at14h30 and 20h00, opens with the gypsy scene from Veronica Paeper's much-loved Don Quixote and is being produced by Prof Elizabeth Triegaardt.
A variety of new works follow. Maxwell Xolani Rani's Face to Face: Black Intelligence, is inspired by Wally Serote's Hyena, and confronts the reality of South Africa, "many cultures but one nation".
Lindy Raizenberg's cast of Like So expresses the freshness, vitality, energy and attitude of contemporary youth and Yarisha Singh explores the release of creative, physical and spirited energy in Free Fall.
Mavis Becker presents a lively slice of modern flamenco rhythms in Flamenco de Tres Partes, which features Yarisha Singh as guest artist. The finalé, written by guest choreographer Marcel Meyer, introduces the style of Music Theatre with his own interpretation of excerpts from the 1940s musical On the Town.
The Young Choreographers programme on Thursday at 19h30 stages the innovative compositions of third- and fourth-year choreography major students.
You can book at Computicket or at the Baxter box office, tel (021) 685 7880 or (021) 680 3989.
South African Association of Canadian Studies
The South African Association of Canadian Studies, focusing on topics of mutual interest to Canadians and South Africans, will be launched at UCT on November 7.
The association is an initiative of academics from UCT and the universities of Stellenbosch and the Western Cape, and will be based at the Centre for Extra Mural Studies at UCT.
The programme will stimulate research and encourage intellectual and cultural exchange between Canadian and Western Cape universities, initially focusing on literary studies, contemporary cultural studies, comparative international affairs and collaborative studies in the natural sciences.
Chaired by Assoc Prof Ingrid Fiske, committee members include Antjie Krog, Prof Crain Soudien, Prof Anusuya Chinsamy-Turan, Dr David Jacobs and Medee Rall. UCT academics, students and alumni and the general public are invited to join the association as members. There is no membership fee.
The distinguished Canadian philosopher, historian and novelist, John Ralston Saul, will give the keynote address at the launch, titled Diversity, Multiple Loyalties and Citizenship: The South African and Canadian experiences.
The venue is the Kramer Law Building, middle campus, UCT. Proceedings start at 18h30. For further information, please contact the Centre for Extra-Mural Studies, tel 650 2888.
Call for teachers
SHAWCO is starting a new project in Khayelitsha, providing academic support to learners in grades 10 to 12. They are looking for qualified teachers who would be interested in helping them with this project. They need teachers for maths, science and English. Teachers will be required to teach for four hours every Saturday morning, starting in the second week of the school year. They will be paid R100 an hour. SHAWCO will provide transport. Please contact Varkey George on (021) 406 6740 or e-mail vgeorge@global.co.za for further information.
Ghoema comes to town
David Kramer has once again joined forces with long-time musical partner Taliep Petersen to create a new musical revue called Ghoema, celebrating our musical heritage. This production also features UCT drama graduate Zenobia Kloppers as one of the narrators.
Delving deep into early South African history at the Cape, the revue explores the roots of slave music as far back as 1650 - 1795, the heyday of the mighty Dutch East India Company, which had an enormous influence on the lives of all people under its rule.
The slaves that the company brought to the Cape from countries as far away as Indonesia, India, Madagascar, East Africa and Java had a critical impact on the settlement at the Cape. They influenced a cross-pollination of lifestyles, music, language and culture between themselves, the indigeous people, the Dutch and other European settlers.
Previews for the show will be held at the Main Theatre, Baxter, from November 11 to 15. The show opens on November 16 and will run through to January 9. Booking at Computicket.
Retirees dinner
The Chair of Council, Geoff Budlender, will host a dinner for retiring staff on Tuesday, November 15, in the Smuts Dining Hall at 19h30 for 20h00. All staff are invited to attend this dinner to support the retirees. The cost of the three-course dinner, which includes a welcome cocktail and red/white wine, will be R95 per person. Contact Rosina van de Rheede at 650 4468 or e-mail vdrheede@bremner.uct.ac.za by November 10.
---
This work is licensed under a Creative Commons Attribution-NoDerivatives 4.0 International License.
Please view the republishing articles page for more information.
---