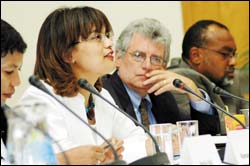 Sparking action: (From left), Namane Magau, president of the Business Women's Association of South Africa; Judith February of the Institute for Democracy in South Africa; Paul Courant, provost and executive vice-president of the University of Michigan; and Prof Glenn Loury of Brown University were but some of the speakers at last week's SA/US symposium on affirmative action.
From the get-go, it would have been clear to everyone involved in the Symposium on Affirmative Action: The United States of America and South Africa, that the two nations are, well, chalk and cheese.
When it comes to the background in which affirmative action is grappled with, the two are worlds apart. Equality is enshrined in the fresh-faced South African Constitution, gospel on the topic, and a raft of other pieces of legislation. On the other hand, the topic merits but a half mention in the American Constitution, drafted in 1781, and its later amendments. (Even Amendment XIV on equal protection and other things is more than 130 years old.)
"The two legal discourses are totally different," says UCT's Professor Crain Soudien.
But the countries and institutions still have much to learn from each other. Even if only to show how unique the problems of each are.
Which is why UCT and the University of Michigan - on the winning side of a pathbreaking legal case in 2003 in which the American Supreme Court upheld the right of universities to consider race in admissions procedures in order to achieve a diverse student body - first launched the two-part series, funded by the Spencer and Andrew W Mellon Foundations. The first symposium was held at Michigan in April, the second at UCT last week.
There was plenty to talk about. Like social justice, the legal context, and equity and the labour markets. And elitism and class and institutional culture and black (and white) students accepting Rhodes scholarships. Not to mention the "stumbling block" that is middle management, the question on who has benefited most from affirmative action, even the rise of the Christian right in the US.
There was also, of course, much discussion around what affirmative action actually is and what it hopes to achieve. With its payoff still debatable, it remains a controversial topic, both in South Africa and the US, even if just for the language used to couch the issue.
"The term 'affirmative action' is distasteful in the South African context - 'transformation' is preferable," said Marvin Krislov, vice-president and general counsel at Michigan. "And in the American context, affirmative action is not exactly a popular term."
While there was widespread support at the symposium for affirmative action, whichever name it goes by, and agreement that it's "about more than just numbers", there was the occasional cautionary voice. Like that of UCT's Professor Neville Alexander who, while appreciative of its necessity, felt that it poses a few risks as well.
"It entrenches racial identity," argued Alexander. "We have to ask ourselves very seriously in this country, which has suffered grievously as a result of the entrenchment of racial thinking and racial identity, whether we need to perpetuate racial identity."
Naturally, access to higher education was front and centre of many discussions at the two-day symposium. Here too, there are major differences between the US and South Africa, as Professor Martin Hall, deputy vice-chancellor at UCT, meticulously listed.
The US boasts 3 500 institutions of higher learning, of which 85% - nearly 3 000 - are open, that is, not based on high-flying academic criteria. Around 60% of American citizens avail themselves of that system.
South Africa has 22 institutions, with a participation rate of around 10%-15%. More tellingly, only about 10% of people in the country can, according to UCT estimates, afford to get into universities without the benefit of some sort of financial aid.
Judge Yvonne Mokgoro, Justice of the Constitutional Court, also gave an authoritative interpretation of the requirements of the South African constitution as it affects equity and access to universities in this country - a particularly important issue for transformation at UCT.
The pot of gold at the end of the conference was not, of course, answers to the many questions raised, but rather the hope that the event would prompt new research.
"Each of these countries, shaped by its distinct historical path, faces critical and complex policy choices," said UCT vice-chancellor and principal, Professor Njabulo S Ndebele. "With exclusion as a broad theme, the symposium will aim to generate debate on the significance and challenges of affirmative action as a policy lever."
There are one or two problems though, as pointed out by Hall in his talk. There were executives and funders at the symposium, many guests from the US (not just Michigan), representatives from UCT staff bodies, students, even some media. (Not forgetting the technical staff making sure the event was recorded for posterity.)
But hardly a UCT lecturer in sight.
"My question as I look at all these empty seats is, where are the faculty?" asked Hall. "Where are the 750 of our tenured academic staff at UCT? Where are the 250 members of our Senate who have a lot to say about this issue and how the university should be governed?"
Food for thought as UCT continues along its fitful transformation course, suggested Hall.
---
This work is licensed under a Creative Commons Attribution-NoDerivatives 4.0 International License.
Please view the republishing articles page for more information.
---