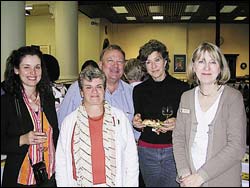 Library gathering: Janine Dunlop, Tanya Barben, Johann Maree, Sue Ogterop and Lesley Hart.
Professor Martin West officiated at the opening of two exhibitions at the Chancellor Oppenheimer Library to celebrate the centenary of the establishment of UCT Libraries.
One of these provides a visual history of the development of the libraries comprising posters of old photos and is titled 100 Years: Looking back, moving forward.
The other is a fascinating selection of material drawn from three main holdings; the African Studies Library, Manuscripts and Archives, and the Rare Books and Special Collections Department.
The wealth and range of items and treasures on display is testimony to the care and dedication of many experts and donors and reflects the extent and scope of subject matter researched at this institution.
Among the most celebrated treasures of international significance is the Bleek and Lloyd Collection, based on interviews of San informants, which were transcribed at the Cape of Good Hope in the 1870s. It is the only written record of the /Xam language that is no longer spoken. This is one of only two South African collections listed on UNESCO's Memory of the World Register.
There are two examples of fore edge art, a technique involving the delicate depiction of a scene painted on the tips of the pages of a book so that when it is closed the separate elements form a complete composition.
Manuscripts, memoirs and letters, illustrated botanical journals and scientific articles, tales of travel and children's stories, all form part of the material on display. In addition there are CDs and videos.
We are now part of the age of technology where staff and students alike have immediate electronic access to thousands of journals and databases when working from home or abroad. The advances are immense and exciting, yet take a moment to consider the following words from Milton's "Areopagitica: a speech – for the liberty of unlicens'd printing, to the Parliament of England" regarding the value of a book: "–a good Booke is the precious life-blood of a master-spirit, imbalmed'd and treasured up on purpose to a life beyond life".
---
This work is licensed under a Creative Commons Attribution-NoDerivatives 4.0 International License.
Please view the republishing articles page for more information.
---