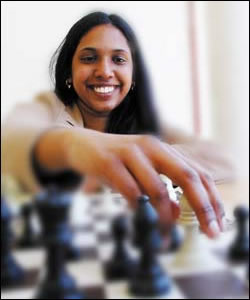 1. Who is she?Jenine Ellappen, 19, a first-year student doing business science. Her family's originally from Durban, but after a stint in Port Elizabeth they've now settled in Cape Town.
2. How did she get started? Her father is no great shakes at the game, but he knew how the pieces move, and that was the knowledge he passed on to his nine-year-old daughter (and, later, to her younger brother). She got hooked, joined a school team, and the rest, as they say, is history.
3. What is that history? She was in the WP side by the time she was 13, and was then selected for the SA under-16 squad. And two years ago, while in matric, she made the SA senior team for the All Africa Games in Nigeria, collecting a bronze board prize. She took part in the World Youth Chess Festival in Greece in 2002, the 36th Chess Olympiad in Spain in 2004 (her gap year) and the World Under-20 Championships in India.
4. And recently? In January she won the African Junior Championship in Zambia and earned the title of Woman International Master. In February she was awarded the WP Junior Sportswoman of the Year Award. She then finished second in the South African Women's Open Tournament, thus qualifying for the 2006 Chess Olympiad in Italy. And this November she will represent SA in the African Individuals in Zambia, a qualifier for the World Championships.
5. How good is she? As we've said, she's now ranked as a Woman International Master. That's just one level below International Grandmaster, where the Garry Kasparovs (and, if you like, the Deep Blues) of the world soar.
6. What's the appeal of the game? The competition, she says. "But part of it is also working at the game."
7. What kind of player, in her own opinion, is she? She gets impatient at times, so likes to play an aggressive game, going for the jugular with her powerful queen and bishop.
8. How does she balance the whole study/chess thing? With sacrifices. "The problem is that I really want to do both - I want to get my degree and become a chartered accountant, but I also want to play chess. That's the tricky part." That means she only gets to play about one international tournament per year, less than she wants to.
9. Chess dreams? The Olympics would be nice, but being International Master, a lifetime title, will do for now.
10. Is chess really a sport? She thinks so. As does one lobby group - among many others - in the UK, who wants it to become a full-medal sport by either the 2008 Olympics in Beijing, or the 2012 Games in London.
---
This work is licensed under a Creative Commons Attribution-NoDerivatives 4.0 International License.
Please view the republishing articles page for more information.
---