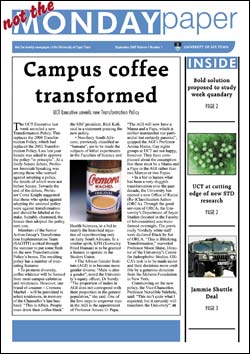 Universities are for debate
I hope that "Student" (Monday Paper 10-16 October 2005, p. 5) is not one of my students, because otherwise she or he should have learnt not to advance self-defeating arguments. "Student" suggests that because universities are for teaching and learning, critics of Not the Monday Paper and I should be getting on with teaching rather than partaking in "playground squabbles". If "Student" were right then surely he/she should have been getting on with learning rather than starting another "squabble". I look forward to your cartoon of "Student" shooting herself in the foot, with the caption: "Doesn't she have exams to study for, or something?" Once that studying is done, "Student" may realise that debate, if done properly, is exactly what universities are for. In the interim, I'm teaching something by writing this response and "Student" could learn something by reading it.
David Benatar
Philosophy Department
Readers gurgling in glee
The great thing about parody and satire is that they stand and fall on their own merits. Nothing nor anyone can change that - it is the ultimate meritocracy. Just like everything else, for example, the letters section of the Monday Paper Formerly Known As Real, the approval rating of Not the Monday Paper will ultimately be whatever its readers choose to give it, based on its content, and I look forward to seeing how that all pans out.
Every indication to date is that the first issue of Not the Monday Paper was a rip-roaring success and that there is a wide public out there who loved it, who is gurgling in glee and wanting more. The only gripes that have significant currency are: "Why did it take so long?", and, "Why isn't the next issue out yet?" However, taking the balanced view for which I am well-known from one end of my desk to the other, I must concede that, judged from an earnestly humorless and over-serious viewpoint, Not the Monday Paper sucks rocks.
While we are here, discussing the quality of writing, an' all, let's have a writing competition. The task is to say clearly - in 128 words or less - what transformation is.
Michael Rolfe
Department of Mathematics and Applied Mathematics
Encore for concert
I would like to express deepest appreciation and thanks for the wonderful concert presented by the vice-chancellor on Friday evening. The variety and excellence of the talent was amazing and brought home again to us how much was missed by previous generations, separated as we were by government policy.
The friend I brought, Mrs Jean Bernadt, now 92, (the first Black Sash member taken into detention) leaned across to Mrs Noel Robb and said: "I am so grateful to have lived this long to see all these different people enjoying the music together."
My own thoughts were of tribute to architect Jack Barnett, who designed the great Concert Hall (another who was detained during the 1960 state of emergency) and I wondered if his spirit lingered above us to enjoy the fulfilment of his wishes.
Dot Cleminshaw
Newlands
---
This work is licensed under a Creative Commons Attribution-NoDerivatives 4.0 International License.
Please view the republishing articles page for more information.
---