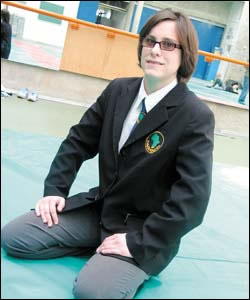 On the mat: PhD student (chemical engineering) and judo referee Cathrin Welker.
A girl needs the imperturbability of Buddha when she's refereeing a judo contest between two heavyweights; men of 100kg plus, judoka who can really make the earth move.
Add to the mix some vocal intimidation from the opposing supporters (choice phrases regarding one's lineage) and you have a heady brew.
At these times sports journalist Tom Canterbury's one-liner come to mind: "The trouble with referees is that they just don't care which side wins."
"You need to keep cool," says Cathrin Welker, a PhD student in chemical engineering. In fact it's the part Welker enjoys most, concentrating intensely, crouching and moving with the judoka. But blink, and you may miss a vital movement. It's that fast.
"Anything can happen on the mat," Welker elaborates.
As a referee, she is a rarity. There are very few women referees in any sport - and even fewer in judo. Put a hand wrong – The hand signal is where her decisions are communicated. There is an art to refereeing in judo, executed through a complex and precise series of calls, demonstrated through hand and body signals to the officials at the joseki table.
There is an even stricter regime attached to dress. When Welker turns up at the tatami to referee, it's formal attire: black blazer, white shirt, tie and dark trousers.
As a former competitor who has seriously studied and practised judo, Welker sees refereeing as a natural progression from competing. A black belt, or First Dan, since last year, she took up judo at age seven in Germany, back in 1986.
"I saw it on television and I wanted to learn. It is a beautiful sport. There are so many aspects to it; incorporating both mental and physical strength, as in all of the martial arts."
When she came to South African shores to do her PhD at the Catalysis Research Unit, she looked about for a club and found a home in the UCT Judo Club, which she chairs.
Referees undergo some tough training: a number of refereeing courses, written exams, and loads of practicals on the mat. In Germany, where she qualified as a referee in 1998, there are five different refereeing licences, each tied to the escalating levels of tournament.
The top job is the World Championships or the Olympics, and for those competitions referees need an International Judo Federation licence.
In South Africa, Welker is qualified to be a national referee and she recently officiated at the South African Open Championships in Durban. This week she heads off to referee in the South African Closed Championships.
A recent cash injection from the National Lotteries has meant that local judo can begin developing a referees course.
It will give others, like Welker, a chance to keep close to the sport they love.
---
This work is licensed under a Creative Commons Attribution-NoDerivatives 4.0 International License.
Please view the republishing articles page for more information.
---