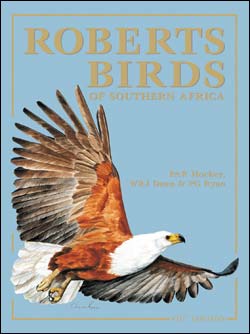 The best-selling African natural history book of all time, Roberts Birds of Southern Africa, has been relaunched in a dramatic new format - and UCT's Percy FitzPatrick Institute of African Ornithology has been intimately involved in the landmark project.
All three scientific editors of this completely rewritten and expanded edition of Roberts - Associate Professor Phil Hockey, Dr Richard Dean and Dr Peter Ryan - are attached to the Percy FitzPatrick Institute.
With each bringing their own area of specialist knowledge to the project, the three, in conjunction with project manager Sharon Maree, coordinated a team of more than 50 authors drawn from the best of southern Africa's ornithologists. Along with large numbers of other editorial and production staffers also involved in the project, the team devoted five years to the writing, editing and production of the new, larger-format edition. The resultant 7th edition of Roberts boasts 80 new colour plates commissioned from the region's best bird artists, including Graeme Arnott, Chris van Rooyen, Ingrid Weiersbye and Penny Meakin, all displayed to best advantage in the new larger format.
The new Roberts comprises 1 300 pages featuring all 951 bird species recorded in the region, much more extensive biological information (including modern molecular taxonomy and full treatment of subspecies) than previously, as well as distribution maps for subspecies - the latter having been included for the first time.
Editor-in-chief Phil Hockey is proud of the way the public has been able to participate directly in the editing of the new book. In what he believes to be "an African, if not a world first", Hockey explains how public review and criticism was invited, via the Percy FitzPatrick Institute page on UCT's website, as text was posted for public peer review throughout the editing process.
A "resource-hungry project in terms of money, manpower and information", the new publication has drawn on the contributions of industrial giant Implats, with the publishing house Africa Geographic being responsible for its production, explains Hockey. However, "Roberts is first and foremost the baby of the Trustees of the John Voelcker Bird Book Fund, which has sponsored Roberts throughout its existence, and which contracted the FitzPatrick Institute to take charge of publishing the new edition".
Further involvement from UCT has been in the form of information support from the Niven Library, the largest free-standing ornithological library in the world, which is based at the FitzPatrick Institute.
Outsold regionally among non-fiction books only by The Bible, Long Walk to Freedom, and a well-known South African cookery book, Roberts, as it is affectionately known by its thousands of readers throughout the subregion, was first published in 1940. For some 65 years since, it has successfully fulfilled the dual role of being both field guide and handbook to thousands of loyal users.
The primary purpose of the latest edition is to provide comprehensive biological, distributional, taxonomic and conservation information to both scientists and amateur birdwatchers. Along with being a "benchmark publication" and "standard reference" for scientists and conservationists, it would provide an "invaluable source of information" to help birdwatchers "better understand and appreciate the birds around them".
The bigger and better Roberts aims to "fulfil the vision of Austin Roberts" and to be an educational tool for the public that is both affordable and accessible. It has been designed to complement rather than to compete with field guides, said Hockey. As with previous editions, a field-guide companion to this latest edition will be produced, but not by UCT.
"The new Roberts was a response to the exponential growth in interest in birding, both as a hobby and a commercial enterprise, in southern Africa over the past few years," said Hockey. Since the 1980s there have been several field guides published in South Africa. "But the gaping hole was the lack of a real handbook." He said the southern African public had been "very spoilt" in terms of bird books in comparison with other parts of the world.
All together, 55 contributing authors, 40 scientific reviewers, 20 bibliographers and eight artists were involved in the project, which took seven years to complete, from concept to delivery. Hockey has worked "full-time and over weekends" on the book for the past three years.
Commenting on the controversy that arose following the decision not to include bird names in Afrikaans in this edition, Hockey said the decision had been made not to sacrifice biological information by including names in other languages. He said the policy was not to privilege one language over another and that the addition of names in other languages would have added 40 to 50 pages of text, and 65 pages to the index. This would have meant the book could not have been bound in a single volume. The price would have shot up by about R600 as a two-volume edition would have meant the additional cost of extra binding and a slipcase.
A searchable Microsoft Access database soon to be available on the website contains bird names in regional languages as well as most other languages spoken in southern Africa, including German, Dutch, Portuguese and French.
The FitzPatrick Institute received Centre of Excellence accreditation from the Department of Science and Technology (DST) and the National Research Foundation (NRF), last year.
Editors
Phil Hockey is an associate professor at UCT's Percy FitzPatrick Institute of African Ornithology. He has published more than 120 scientific papers, and is author or co-author of many popular articles and books including southern Africa's best-selling bird field guide and the monograph Waders of Southern Africa. His main research interests are in shorebird ecology and migratory behaviour.
Richard Dean is a research officer at the Percy FitzPatrick Institute, and will be retiring at the end of 2005. He has studied plant-animal interactions and the biology of birds in arid and semi-arid ecosystems and is co-editor of a synthesis of research in the Karoo. He is also the author of The Birds of Angola and a book on nomadic birds, and editor of BirdLife South Africa's scientific journal Ostrich.
Dr Peter Ryan is a senior lecturer at the Percy FitzPatrick Institute and runs a MSc course in conservation biology. He has written or co-authored more than 120 scientific papers as well as many popular articles and books, including a field guide to the birds of sub-Saharan Africa. His primary research interests are the biology and conservation of seabirds, and evolutionary relationships among African birds.
---
This work is licensed under a Creative Commons Attribution-NoDerivatives 4.0 International License.
Please view the republishing articles page for more information.
---