Medical aid changes
Discovery Health has launched their 2006 option changes. Plans such as the NetcarePlus, Medi-Clinic Priority and Coastal Priority have been discontinued; savings levels have been capped and the tax rebate is in question. In order to find out more about the impact these changes will have on you, you are strongly urged to attend one of the following information sessions:
Monday, October 17
13h00 - Michaelis Lecture Theatre, Michaelis Building, Hiddingh campus
Tuesday, October 18
13h00 - PD Hahn, LT2, upper campus
Wednesday, October 19
10h00 - Bremner building
13h00 - PD Hahn, LT2, upper campus
Thursday, October 20
13h00 - Conference Room 4, Medical School
16h00 - PD Hahn, LT2, upper campus
Friday, October 21
12h30 - Bremner building
Tuesday, October 25
12h00 - Syndicate Room 1, Graduate School of Business.
Correspondence from the Human Resource Department with regard to the 2006 changes has been sent out. Should you not receive your information pack by Wednesday, 12 October, please contact Gina Fraser at extension 4001.
Get to the Wellness Week
Still haven't diarised the Wellness Week from October 12 to 14? Tsk, tsk. You will miss out on a line-up of health and wellness exhibitors, all in the Graduate School for Humanities quad, just waiting to pamper you from 11h00 to 15h00 daily. Ignorance is not bliss, not as regards your health. Perhaps your blood pressure is bothering you, or even your eyesight is gradually dimming with all the computer work, but you just haven't had time to get to your doctor or optician. Pop in to the Wellness Week and take advantage of a range of health professionals on tap. The UCT Private Hospital will be on hand to promote the launch of their new weekly Breast Clinic. (The clinic will be held every Thursday morning and will include services such as mammograms [at reduced rates], consultations and counselling sessions. Call 442 1966/1816 for bookings.) And, as it's Breast Awareness Month, a representative from CANSA will demonstrate the correct way to check for lumps. Don't forget those wonderful therapeutic masseurs will there to massage your stresses away with aromatic oils.
AGM of Convocation and the UCT Alumni Association
The AGM of Convocation and the AGM of the Alumni Association of the University of Cape Town will be held a 17h30 on Monday, October 31, in the Sanlam Studio, Baxter Theatre, Main Rd, Rondebosch.
Members wishing to submit items for consideration should do so in writing to Hugh Amoore, Secretary of Convocation, University of Cape Town, Private Bag, Rondebosch, 7701, by October 20.
The AGM agendas will be published on the UCT website by October 20.
All graduates and holders of UCT diplomas are members of Convocation, as are the vice-chancellor, deputy vice-chancellors, academic staff and research officers.
The UCT Alumni Leadership Forum will follow immediately after the AGM of the Alumni Association. Those who confirm their attendance of this event will be notified via e-mail of the keynote speaker and the topic, once this has been confirmed. Seating is limited and doors open at 17h00.
Refreshments will be served. Please RSVP to Edwina Kannemeyer, tel (021) 650 5671, fax (021) 650 5628 before October 24.
Annual concert
Staff and students are invited to attend the UCT Choir annual Jameson Hall Concert on Wednesday, October 12.
The evening will feature a cappella music, SHAWCO drumbeats and good food and company. Proceedings start at 19h00 and tickets are R20 for adults, R10 for children, students and pensioners.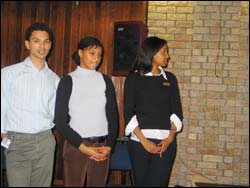 Community-based research awards
A highlight of the academic year for the Faculty of Health Sciences is the student competition in community-based research. This competition is run by the schools of public health and family medicine, and health and rehabilitation sciences. Judged by an expert panel, this year's crop of projects ranged from a study on alcohol abuse in the Philadelphia community, to a look at the experiences of mothers living with HIV as beaders in the Kidz Positive beadwork initiative. The competition was won by Andrew van Eck and Imelda Seymour (above left) for their work on the knowledge, attitudes and practices regarding contraception among adolescents at two high schools in Mamre and Atlantis, and Linia Patel (far right), who assessed violations of the international code of marketing of breast milk substitutes in the printed media and breast milk substitute product labels in South Africa.
---
This work is licensed under a Creative Commons Attribution-NoDerivatives 4.0 International License.
Please view the republishing articles page for more information.
---