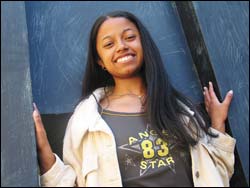 Hand on: Stacey-Leigh Titus.
Few first-year students of sociology can say they have an understanding of the inner workings of the United Nations.
Former Desmond Tutu Emerging Leadership awardee Stacey-Leigh Titus (18) counts herself lucky. She attended a three-day United Nations conference last month, held at the University of Stellenbosch.
Perhaps lucky is a bad word. As former golfing great Gary Player once told a snotty reporter: "The more I practise, the luckier I get."
In this sense, Titus has done the yards, persistently. From her early high-school days at Fairmount Secondary School in Grassy Park, she has worked at her leadership: as head of her church home-cell group, on the school's youth committee in grade 10, in conflict resolution and peer mediation, on the school's Student Representative Council at school, and, finally, as head student.
The conference, The African Regional Model United Nations Conference (or ARMUN, if that's a bit of a mouthful), was a simulation of the UN's Millennium Review Summit. This summit recently convened at their headquarters in New York to discuss the Millennium Development Goals, set by the General Assembly in September 2000.
The eight Millennium Development Goals (MDGs), which range from halving extreme poverty to halting the spread of HIV/AIDS and providing universal primary education, all by the target date of 2015, form a blueprint agreed to by the world's nations and leading development agencies. Together, they have galvanised in an unprecedented effort to meet the needs of the world's poorest.
The various countries are tailoring the Millennium Development Goals to national circumstances, building these into national development strategies. For more than 70 of the poorest countries, the main strategic tool is a national poverty-reduction strategy.
The simulated conference gave young South African leaders like Titus a taste of how the UN goes about things - and how important negotiation and leadership will be in achieving the eight millennium goals by 2015.
"We reviewed the progress made, especially by African countries," Titus explained. President Thabo Mbeki recently took African leaders to task for their lacklustre commitment to the Millennium Development Goals.
"The main problem in Africa remains poverty," Titus said.
She and her partner, Taariq Kagee (18) from Retreat, a first-year BCom student of the University of the Western Cape, were chosen to act for Sweden and to produce a paper on that country's behalf, detailing their plans to help the world's poorest nations.
"Our plans included debt relief, a reduction of trade barriers and the transfer of intellectual capital between developed and developing countries," Titus added. "We had to negotiate with other countries and form alliances with them."
It's useful insight. Titus says whenever she hears news about the United Nations now, she listens with a more finely-tuned ear. World events reported in the daily newspaper are scoured with renewed interest.
"I understand now why the UN takes so long to reach consensus. Our simulated meetings stretched from morning until 21h00, time spent just negotiating."
---
This work is licensed under a Creative Commons Attribution-NoDerivatives 4.0 International License.
Please view the republishing articles page for more information.
---