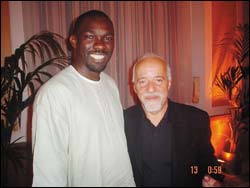 Blueprints: Colins Imoh (left) with Paulo Coehlo.
An international student at UCT, Colins Imoh was selected to attend the Waldzell Meeting 2005 at the Melk Abbey in Austria, titled Blueprints of a Future with Meaning.
The meeting was put together by the Waldzell Institute, which takes its name from Herman Hesse's novel The Glass Bead Game. In the novel, Waldzell is a fictitious place enriched by an atmosphere of wellbeing and spiritual work where the best glass-bead players live.
The intention of the Waldzell Meeting - now in its second year - is to bring together exceptional people in a quest to understand humanity's meaning. The high-profile think tank also attracts a range of business and other leaders.
Nigerian Imoh, who is currently studying towards a master's in environmental management at UCT, was selected for his work in conflict resolution in his own country and abroad (he is also the energy behind the Awake the African Spirit campaign at UCT).
He joined 17 other young people, under the banner of Architects of the Future, who were chosen to "stand up for our world to have a future with meaning".
In tandem with these "architects", a group of 12 international speakers was assembled, ranging from British Buddhist nun Tenzin Palmo to American biochemist Craig Venter.
Paulo Coelho, whose books include The Alchemist and, most recently, The Zahir, agreed to be the patron for the meeting of the Architects of the Future and presented the outcome of the weekend's deliberations on September 12 at a cinema in Vienna.
Imoh said the essential message distilled by the young architects was a need for people to "be brave, take risks and ask questions". While there was a great deal of pessimism expressed by many of the speakers, he said the young architects felt there was hope if everyone did "their little quarter" in effecting global change.
The Awake the African Spirit campaign will be launched on October 6. For more information, please contact Colins Imoh at imohc@science.uct.ac.za or call him on 082 5045252.
---
This work is licensed under a Creative Commons Attribution-NoDerivatives 4.0 International License.
Please view the republishing articles page for more information.
---