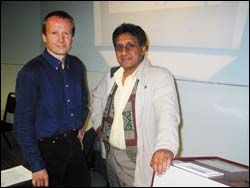 Clicks and genes: Dr Tom Güldemann (left) with Prof Raj Ramesar (human genetics). Güldemann was a recent guest of Prof Raj Mesthrie, head of linguistics.
Dr Tom Güldeman, one of a few linguists in the world working on the linguistics of Khoe-san languages, was a recent guest of Professor Raj Mesthrie, head of linguistics.
Güldemann, of the Institute for Evolutionary Anthropology at the Max Planck Institute in Leipzig, presented a series of graduate seminars on the topic Introduction to Khoe-san Linguistics and Introduction to /Xam.
"It was the first time in at least 20 years that these topics were taught at UCT, which has no Khoe-san specialist linguist, not since Professor Ernest Westphal retired in the early 1980s," Mesthrie said. "Ever since Professor Tony Traill retired at the University of Witwatersrand, it has become hard to even find supervisors for students working on these heritage languages of ours; and to find students."
Mesthrie's aim is to train students (a new generation) in the rudiments of this language family, with the hope that one or two of them will be inspired to take up the "serious and arduous study of Khoe-san linguistics".
Güldemann also presented a seminar in the human genetics department, this session on genes and clicks from a linguistic perspective.
---
This work is licensed under a Creative Commons Attribution-NoDerivatives 4.0 International License.
Please view the republishing articles page for more information.
---