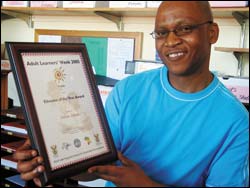 Administrator and teacher: After hours, Petros Ndlela is an award-winning adult educator in Langa.
Petros Ndlela, administrative secretary of the film and media studies centre, closes the security gate at his office door at lunchtime, just for a moment's peace.
As one of the centre's graduates e-mailed to ask: "Are you still being worked to the bone and being endlessly harassed by all manner of undergrad hooligans?"
Yes to both.
But after hours, Ndlela takes on another mantle, that of teacher at the St Francis Adult Education Centre in Langa. His efforts (he teaches English literacy) won him the Western Province's Educator of the Year Award, introduced to mark Adult Learner's Week.
Soon after, he was placed third in the countrywide Educator of the Year Award at a big do in Johannesburg.
His own Student of the Year Award went to an indomitable 64-year old grandmother from Langa. Asked to find out how to open a savings account (it was an assignment), Nomalizo Bulebule borrowed R6 from a neighbour, took herself off to a bank and got all the details for her oral presentation at the next class.
Ndlela admires her guts. Most of his students have spoken only Xhosa all their lives and you know what they say about old dogs and new tricks. Their success stories are like gems in his hands, big and small, glowing.
He picks out another: the story of Nosakhele Namba, who has a dressmaking business in the Joe Slovo settlement in Langa. She couldn't wait to tell him she had matched the word "potato" to the label printed on the bag of spuds under her sink.
Nceba Nqamra, who works at Pick 'n Pay, came to Ndlela's class one day and wanted to know what the "Q" sign was all about. Where was "queue"?
At Salt River Station, he saw another of his students board a train and take out a magazine. She was reading.
Ndlela is delighted - delighted that his class is linking their learning to the everyday. And when he was in Johannesburg for the big award, his students phoned constantly. What news? Had he won? Clearly, he's a much-loved teacher. What he puts in, he gets back.
But now the time for talk is up. Unlock the security gate.
"No time for Petros," he laments, putting away his smartly-framed certificate.
But there are plenty of people with time for him.
---
This work is licensed under a Creative Commons Attribution-NoDerivatives 4.0 International License.
Please view the republishing articles page for more information.
---