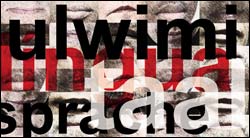 Minority literature and the questions it raises, like "what is a minority and who are its writers?", occupied the minds of delegates to a conference on minority writing, organised by Dr Azila Reisenberger of UCT's Kaplan Centre for Jewish Studies and Research.
Speakers from North and South America, Europe and Africa, addressed issues of readership, translation, publishing and distribution of the writings of minority writers - very often writing in a language not their own.
What is the impact of their work on that of the host country or language? Do minority writers fall between two stools or straddle two worlds, comfortably enriching each?
Riva Rubin, a South African poet living in Israel for the past 40 years and winner of the Israeli President's prize for literature, still writes and publishes her poetry in English.
Susan Chavez-Silverman, a professor of Spanish in California resolves this issue in her Killer Cronicas by switching comfortably from English to Spanish and back again. It is the first work to have been released by mainstream publishers in "Spanglish".
Jennifer Cohen examined why Israel Ben Yosef, living and teaching in South Africa, chose to write in Hebrew, unlike other writers who appropriated the dominant language as their own.
Aviva Laskov discussed this in relation to Said Kashua, an Israeli-Arab writing in Hebrew, and Annedith Schneider from Sabanci University in Istanbul talked about Assia Djebar, an Algerian living in France and writing in French.
Afrikaans, offered by UCT's Associate Professor Chris van der Merwe, and African writers were not forgotten. Nor was the parlous state of Shona literature in Zimbabwe, where it is spoken by 70% of the people, as revealed by Enna Sukutai Gudhlanga. And nor were the Nigerian writers living and writing in London, as analysed by Professor Brenda Cooper, director of the Centre for African Studies.
Hannelore van Ryneveld touched on so-called gastarbeiterliteratur, or migrant literature, in discussing the German perspective on minority writing, while Erhard Reckwitz of the University of Duisburg-Essen in Germany spoke on white writing in post-apartheid South Africa, analysing, more specifically, political correctness as a subversive element.
Colleen Higgs from the Centre for the Book in Cape Town described their community publishing initiatives and publishing consultant Eve Gray suggested very strongly that the solution for limited market publishing lay in electronic production and dissemination.
In Brazil, where language is not an issue, women writers are also a minority and Nancy Rozenchan of the University of San Paulo in Brazil discussed Cintia Moscovitch, currently the most important woman writer in Brazil and also Jewish - another minority.
Veronica Belling, librarian of the Kaplan Centre, spoke about Yiddish, the archetypal minority language in that it has no geographical location, and is the only vernacular recognised as a language. She discussed specifically Leibl Feldman's Jews in Johannesburg until Union on May 31, 1910, an interestingly subversive book that would possibly never have been allowed to be published had it been written in English.
In her summing up, Reisenberger, herself an award-winning author who lives in South Africa yet writes mainly in Hebrew, stated that in her view any literature exposed to other literatures is enriched - each still remaining autonomous and given equal prominence.
A language existing in isolation becomes crystallised, she noted. Minority literature kept on the fringe reduced and diminished the dominant literature. "Minority literature needs to be brought into the mainstream with suitable interventions, particularly from funding authorities, as the ethical aspect must not be forgotten - that of giving respect to minority language and cultures." To this end the participants founded the International Minority Literature and Cultures Studies Association, which aims at promoting the integration of peripheral voices into the mainstream. Further information about this association may be obtained from azila@humanities.uct.ac.za.
* Contribution from Rheina Epstein
You who live secure in your mother-tongue
You who live secure in your mother-tongue
Consider this:
The vagabonds who left their secure homes,
roam the earth,
rest their heads in many dwelling places.
They are but visitors at your home,
never master the secret passages
the comforts of the short-cuts
of your castles.
They may know how to get to the kitchen,
They may know how to get to the bath,
But the small hidden nooks and frills,
and the attics with memories of yore,
are out of their laborious reach.
Tired, tired they are.
Tired of playing translations,
Refitting their home's imprint
With the new home acquired.
Forever bumping into man-made articles
and language particles.
You who have always stayed put and secure,
Consider this:
These vagabonds sparkle your home
with gems from their childhood rhymes,
ingenuity of fabricated words,
Flashing exotic brilliance,
on your solid hardened walls.
You who live secure in your mother-tongue,
Consider this:
Hospitality is: Welcoming strangers,
Trying to hear them,
Trying to understand what they mean.
(As)
One knows not
When you will roam the earth.
Azila Reisenberger
---
This work is licensed under a Creative Commons Attribution-NoDerivatives 4.0 International License.
Please view the republishing articles page for more information.
---