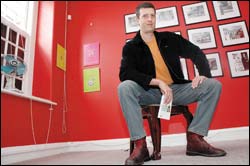 Etienne Krüger.
Etienne Krüger (35), remembers the exact moment he decided to write a book.
He was driving through the Karoo somewhere between Beaufort West and Laingsburg when an Elliott International removal truck passed him, and it struck him that Eliot would make a great main character in the novel he had yet to write.
The next day, Krüger, who graduated with a degree in electronic engineering from UCT in 1991, started working on what was to become a light-hearted novel titled Getting Lucky.
"Basically the book came to me in a flash. I didn't know I was going to write it the day before," he said in an interview with Monday Paper.
An irreligious take on life is evident in this romp through campus life, which has the added interest for UCT readers of being located right here in Rondebosch. It should appeal to current students, as well as those with fond recollections of their dissipated student days.
But anyone with politically correct sensibilities should be forewarned by the advisory on the cover which reads SNLVE (E for engineering, it's explained in the small print).
As is common among male first-year students, the hero Eliot really only has one thing on his mind, and that's not his academic performance. While Eliot's personal ambitions are constantly being thwarted by the fickleness of the fairer sex, there's a greater threat abroad, a campus stalker who will stop at nothing to get his victims–. It all makes for a surprisingly gripping read, which shouldn't be taken too seriously.
Before tackling this project, Krüger's only experience of creative writing was high school compositions and a vague memory of being taught terms like climax and denouement. He has a taste for Tom Sharpe, Douglas Adams and Terry Pratchet, a predilection which shows up in his writing.
Like his main character, he has first-hand knowledge of the Rondebosch police station, which features large in the book, as he was once hauled in for drunken and disorderly behaviour, an occupational hazard for students. And, he confesses he didn't really attend many lectures.
With this first publication under the belt, Krüger would like to re-engineer his time sufficiently to write full-time, and is showing every indication of achieving this ambition.
He has already finished a second work, entitled Earth â"¢, about a systems administrator who runs Real Life on the Earth server. He is also working on a spoof on Freud in a third novel with the working title Package Tour.
* Getting Lucky retails at around R89 at selected bookshops, including Brain Books on campus.
---
This work is licensed under a Creative Commons Attribution-NoDerivatives 4.0 International License.
Please view the republishing articles page for more information.
---