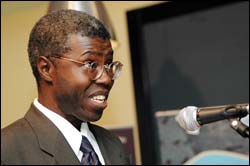 Spreading the word: Prof Souleymane Bachir Diagne of Northwestern University in the US was one of the speakers at a recent conference celebrating Africa's written traditions.
Here's is how the story goes - for eons, word of mouth was the only means Africa's inhabitants had to pass on its tales, its mythology, its history, from one generation to the next.
Until, that is, Europeans came and dragged the continent kicking and screaming away from the campfire into enlightenment and the written word.
That's the old version of the story, anyway. But since its independence from the French in 1960, Mali, and specifically the never-never city of Timbuktu - which is, in fact, a very real city, located just north of the Niger River as it bends southward again - has been rewriting the annals of history.
Timbuktu, now hard up and in danger of being overrun by the Sahara, was once a cultural hub, a bustling centre for trade and learning. And there's a written record of those glory days. Some 300 000 manuscripts, some dating back to the 13th century, covering everything from law to medicine, astronomy to literature, are said to be scattered in libraries around Timbuktu.
Around the world, a small circle of scholars is poring over copies of these scripts. In UCT's Ford-Foundation-funded Timbuktu-UCT Manuscripts Project, or Tombouctou (a play on the French spelling), for instance, Dr Shamil Jeppie and Shaid Mathee of the Department of Historical Studies are translating and vivisecting 160 manuscripts making up nearly 1 000 folios or pages.
"The aim of our work is to see and gauge the social history of the region," says Mathee. "We hope that the manuscripts will give us a deeper insight into the people and their history."
At a recent conference hosted by Jeppie and the SA government's South Africa-Mali Project, an initiative kick-started by President Thabo Mbeki, leading scholars in the field from all corners of Africa, Europe and the US also got to flesh out that history. The event boasted a marquee line-up - leading scholars and guests, including Dr Essop Pahad, minister in the Presidency and chair of the South Africa-Mali Timbuktu Manuscripts Trust, and Minister of Arts and Culture Pallo Jordan.
One aim of the gathering was to examine the wealth of written works from Africa, and the region from whence this came. Without downplaying the continent's oral tradition, of course.
"What Timbuktu and also other places where Islamic scholarship was developed teach us, is to have a sense of history that opposes this identification of Africa with orality, a generalisation that is just not accurate," said Professor Souleymane Bachir Diagne of Northwestern University in the US at the second of the conference's two public lectures.
"Of course orality is important in all cultures and especially in Africa. But we should not ignore that the graphic rationality of Islam has meant, in many areas, the adoption of Arabic, or rather Arabic script, by populations who, among other consequences of their conversion to the Muslim religion, literally rewrote who they were and created a written intellectual tradition that we need to study."
Africa's new-found written legacy comes as a surprise to many, says Jeppie.
"Many of my students who came to the conference were dumbfounded. They never knew, for instance, that Swahili had a long pre-colonial written tradition."
But, word for word, these students - and others - are learning.
---
This work is licensed under a Creative Commons Attribution-NoDerivatives 4.0 International License.
Please view the republishing articles page for more information.
---