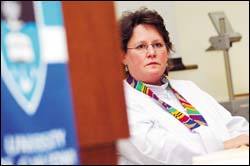 Woman of science: At the second UCT Alumni Leadership Forum, Prof Lynette Denny talked about her work to prevent cervical cancer in Khayelitsha.
Professor Lynette Denny had her work cut out for her when, in 1995, she first proposed to set up a study in Khayelitsha to find an alternative to the Pap smear. This is the standard test for detecting cervical cancer among women, it wasn't suited to the low-tech, hard-up township conditions.
Residents didn't easily take to the this white woman from the University of Cape Town's Department of Obstetrics and Gynaecology who wanted to poke around "down there". Researchers had a bad rep in townships, renowned for coming in, providing a few resources, but then leaving residents high and dry once they got what data they needed.
For six months, Denny had to court traditional healers and community associations to get their buy-in.
"I had to win over a lot of hearts and minds," she says.
But, 10 years on, the project, which started with some 3 000 women, has tested about 15 000 women at her Khayelitsha clinics, Denny reported in her talk, Women, Science and Health, at the second UCT Alumni Leadership Forum last week.
And she's also found her low-cost, low-maintenance test - a direct visual inspection (DVI) in which a nurse would first wash the cervix with white vinegar, which turns precancerous lesions white, and then inspect the cervix with a bright light for the telltale white lesions.
It is estimated that nearly a quarter of a million women doe from cervical cancer each year.
"Cervical cancer is a devastating disease that can be prevented with a simple test," said Denny, "yet it continues to kill women in their late 40s and early 50s, women who at that age are frequently heads of households, breadwinners, the moral and socially most important people in their communities."
It is also a very political disease, as its prevelance in poor countries reflect inequity in resources, added Denny.
"In South Africa, cervical cancer incidence in the different ethnic groups very accurately reflects the gross inequalities in healthcare created by the apartheid system and colonialism. The incidence of cervical cancer among black South African women is 40 in every 100 000 women compared to 10 in 100 000 white South African women.
But the battle can be won. As it was in the story of Mrs C, which Denny told at the alumni gathering.
Mrs C, who was caring for two children and four grandchildren, had come to the Khayelitsha clinic emaciated, anaemic - she'd lost her income when she could no longer travel to her domestic job in Constantia because of her illness - and bleeding heavily from her uterus. She was also on the verge of heart failure, the result of the anaemia combined with a heart defect she'd acquired as a child from rheumatic fever, itself a disease of poverty.
Denny rushed her patient to Groote Schuur Hospital, where she eventually received a heart-valve replacement, treatment for her cervical cancer precursor, and had her uterus removed, which put an end to the bleeding. In time, Denny's group and a partner project set up Mrs C, a talented seamstress, with a sewing machine, with which she kick-started what is today a thriving business.
She even paid back the project for the sewing machine.
"To me this story illustrates very well what the impact of having a low status in life actually is," said Denny, "in this instance, being a woman, being a black woman, and being a poor black woman.
"Add to that, poor-quality health services and the withholding or denial of access to the huge advances of modern medical science, we leave behind vast numbers of individuals who have the potential to add so much value to our world."
---
This work is licensed under a Creative Commons Attribution-NoDerivatives 4.0 International License.
Please view the republishing articles page for more information.
---